Self-driving Ubers now available in San Francisco — here's how they work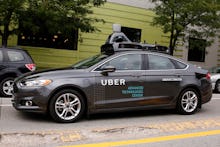 Uber is bringing self-driving cars to its hometown of San Francisco. Starting Wednesday, a small fleet of its autonomous Volvo XC90 SUVs will be available for use throughout the city.
The vehicles are not entirely autonomous — a safety driver and test engineer will occupy the car's two front seats, similar to the strategy Uber employed when it rolled out self-driving Ford Focuses in Pittsburgh in the fall. But, according to TechCrunch, the Volvos are available to "ordinary passengers" who request a ride from UberX. 
Just like the cars in Pittsburgh, Uber's San Francisco self-driving cars are outfitted with a slew of high-tech cameras, sensors and supercomputers designed to scan the environment and process real-time data. They will help the self-driving Ubers effectively steer, accelerate, break and change lanes while accounting for pedestrian movement and traffic changes. 
With its famously steep hills, foggy climate and congested streets, San Francisco should prove to be a challenge for Uber's autonomous experiment. Anthony Levandowski, Uber's vice president of self-driving technology, maintains the company is up for the task, however. 
"The promise of self-driving is core to our mission of reliable transportation, everywhere for everyone," he said in a blog post, according to the New York Times. "Now we want to see how we operate in this new environment, especially with the giant hills that San Francisco has to offer."