Tech workers vow not to build Muslim registry, but so far two companies have joined them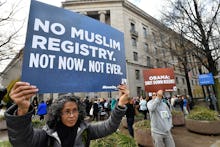 As of Wednesday, more than 500 Silicon Valley engineers and employees signed a pledge refusing to cooperate with the administration of President-elect Donald Trump's proposal to build a Muslim registry and implement mass deportations of minority communities.
The NeverAgain.tech petition was created in response to the Intercept's report of Twitter being only one out of nine major tech companies publicly refusing to assist with Trump's proposal for a Muslim registry. The other eight companies — Google, Microsoft, Apple, IBM, Booze Allen Hamilton, CGI and SRA International — have not responded with any public statements on whether they would refuse to help to build a Muslim database. The report also noted that IBM CEO Ginni Rometty personally congratulated Trump and offered the company's intelligence and data-related services to help "cut down on costs."
The pledge notes IBM's history in aiding in the deaths of 6 million Jews in the Holocaust. It also likens Trump's proposals to President Franklin Roosevelt's Japanese-American internment camps, as well as the Armenian, Rwandan and Bosnian genocides.
"We have educated ourselves on the history of threats like these, and on the roles that technology and technologists played in carrying them out. We see how IBM collaborated to digitize and streamline the Holocaust, contributing to the deaths of 6 million Jews and millions of others. We recall the internment of Japanese-Americans during the Second World War. We recognize that mass deportations precipitated the very atrocity the word genocide was created to describe: the murder of 1.5 million Armenians in Turkey. We acknowledge that genocides are not merely a relic of the distant past — among others, Tutsi Rwandans and Bosnian Muslims have been victims in our lifetimes."
Silicon Valley workers who signed the pledge promised to fight back or resign from their positions if their employers force them to conduct surveillance on minority communities or invade their constitutional rights to privacy. They also vow to ask their companies to minimize data collection and retention that could potentially be used to target minority communities. 
"We are choosing to stand in solidarity with Muslim Americans, immigrants and all people whose lives and livelihoods are threatened by the incoming administration's proposed data collection policies," the pledge states.
The pledge was released Tuesday, one day before several high-ranking Silicon Valley executives will meet with Trump. Those in attendance of the tech summit Wednesday are Facebook COO Sheryl Sandberg, Apple CEO Tim Cook, Amazon CEO Jeff Bezos, Microsoft CEO Satya Nadella and Google CEO Larry Page.
It's not unprecedented for prominent tech firms in Silicon Valley to cooperate with U.S. spy agencies on counterterrorism initiatives. According to LA Weekly, the Los Angeles Police Department has used surveillance and intelligence services from Palantir Technologies, which has monitored millions of Southern California residents as part of their counterterrorism strategy. Palantir has also contracted services with several U.S. spy agencies, including the FBI, CIA and NSA. On Monday, the Intercept reported that Palantir is expected to assist the Trump administration collecting data and tracking intelligence on immigrants and other minority communities.
Palantir co-founder and investor Peter Thiel served on Trump's transition team. Trae Stephens, a principal at Thiel's Founders Fund, has also been appointed to Trump's defense transition team.
Facebook, like many other tech companies, is expected to strengthen their counterterrorism strategy. However, Facebook told Mic it did not receive a request to build a Muslim registry and would refuse to assist in building a database of that kind.
 "No one has asked us to build a Muslim registry, and of course we would not do so," a Facebook spokesperson told Mic.
Progressive activist group CREDO Action has been calling on tech companies to follow Facebook and Twitter's example to pledge against building a Muslim registry database. 
"If Trump follows through on his campaign promise to build a Muslim registry, leading tech companies may be our last line of defense against Trump's bigotry and discrimination," CREDO senior campaign manager Heidi Hess told Mic in an email. "Tech giants like Google and Microsoft must follow Facebook's lead and take a moral stand now by publicly announcing that they will not play any role in Trump's chilling efforts to create a Muslim registry."
Apple, Google and Microsoft did not yet respond to Mic's request for comment.
Dec. 14, 2016, 4:46 p.m.: This story has been updated.