Inauguration Day 2017: Jackie Evancho to sing national anthem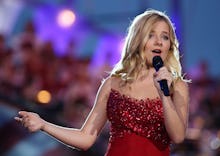 Jackie Evancho, a child prodigy who rose to fame on the reality television contest "America's Got Talent," will sing the national anthem at President-elect Donald Trump's inauguration, the Inaugural committee announced Wednesday morning.
Evancho, 16, is no stranger to performing in Washington, D.C.
In 2010, she performed "O Holy Night" at the National Christmas Tree lighting before President Barack Obama and his family. 
She also performed for Obama and other political leaders at the 2012 National Prayer Breakfast, and sang "God Bless America" on July 4 at the fireworks at the U.S. Capitol.
Evancho is in good company with others who have sung the anthem at the inauguration.
In 2013, Beyonce performed it for Obama's second inauguration.
The Inauguration is scheduled for Jan. 20, 2017.