Chrismukkah is coming: Here's what to cook for Christmas and Hanukkah's big overlap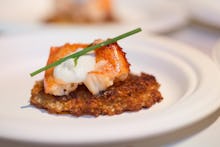 A mash-up holiday is the best kind of holiday. Rare, unusual and somewhat nonsensical, the concept of overlapping holidays, even from different religions, must be celebrated. While 2013's Thanksgivukkah will never again repeat in our lifetimes, this year, Christmas Eve and the first night of Hanukkah overlap! 
And what better way to celebrate the conglomeration of the two holidays than with food? Chefs and families celebrating both holidays are preparing for the big Saturday night holiday overlap with mash-up recipes worthy of their own holiday. 
"I am excited about Chrismukkah," Bahr Rapaport, executive chef of New York's Seabird said in an email. "I think it's a time when we can get creative and fuse different ingredients. It also allows those inexperienced with either Christmas or Hanukkah to get a taste of what the other holiday has to offer."
At Rapaport's restaurant, he'll be serving mash-up dishes including a yam latke with avocado and "Feast of the Seven Fishes" seafood salad. "Hanukkah flavors for me are quite simple, you have your latkes, brisket and jelly doughnuts [though] interpretations of those dishes can vary from family to family," he said. 
"As for Christmas, I only know from research and the movies – some Christmas goose, honey ham and yams. This year I'm trying to do a honey lamb roast as to appease the Hanukkah and Christmas folks alike."
For Rapaport, creating this type of holiday fusion cuisine isn't too difficult. "I don't think it's complicated at all to combine dishes from two different traditions," he said. "You get to try something wacky and see if it sticks. Sometimes you succeed and sometimes you fail, but it's always in good fun."
If you want to mesh your own holiday recipes, Rapaport recommends taking a day before the holidays to treat your own kitchen like a test kitchen, taking the staple flavors and ingredients of each holiday and sampling versions of your own mash-up creations before the holiday. 
You could, of course, rely on chef-created mash-ups, and yes, we have some for you. Here are some easy Chrismukkah recipes you can master in time for the big holiday. 
Seabird's seafood and yam latke
Serves 8
Seafood salad:
3 ounces shrimp
3 ounces crab jumbo lump
6 ounces  lobster meat
3 ounces scallop
3 ounces sea bass
3 ounces  branzino
3 ounces dorado
2 tablespoons mayo
1 lemon
1 shallot
Salt and pepper to taste
1 bunch cilantro
1 teaspoon malt vinegar
2 avocados 
Latke:
2 yams
1 shallot
1 Idaho potato
1 butternut squash
2 cups all-purpose flour
4 eggs
Salt and pepper to taste
Method:    
1. To make the salad, cut all seafood into chunks and then mix together with lemon, mayo, vinegar, sliced shallots and two teaspoons chopped cilantro. Season with salt and pepper to taste. Set aside.
2. To make the latkes, shred yams, potatoes, shallots and squash using a mandolin.
3. In a separate bowl combine eggs and flour. Once mixed well combine all shredded ingredients.
4. Place mixture on a baking sheet and cook for 15 minutes on 350. 
5. Once ready, cut potato cake into rounds with a mold. In a pan, lightly sear potato rounds.
6. Once golden brown fan out a quarter avocado per pancake and place on top of each latke. Then place the seafood salad on top of that and serve.
Egg in a latke basket 
By chef Kenji Hurlburt for The Queens Kickshaw
Makes 9 latkes for Chrismukkah brunch 
Latkes: 
8-10 Russet potatoes, peeled and grated
1 cup flour
6 eggs
Salt and pepper, to taste
Drain potatoes as they're being grated. Press down with a spoon to squeeze as much liquid out. Combine all ingredients in a bowl. Lay the batter in a pancake shape in a hot pan with canola oil. Cook on medium-high heat until both sides are golden brown, and edges are brown and crispy.
Sriracha aioli:
1/2 cup Sriracha
1 quart Kewpie
1 ounce lime juice
Salt and pepper, to taste
Combine all ingredients in a bowl. Set aside. Makes one quart. 
Crispy onions:
4 shallots, thinly sliced
1 egg
1/4 cup flour
Toss the shallots in egg, then coat with flour. Deep-fry until crispy. Set aside.
Method:
1. Pre-heat sauté pan with a tablespoon of canola oil.
2. Take cooked latkes, and cut out a hole in the middle with a cookie cutter.
3. Place latke in sauté pan, and crack an egg in the middle.
4. Fry until albumen is thoroughly cooked.
5. Garnish with crispy onions, Sriracha aioli, fresh scallions, and aonori (seaweed flakes).
Lemon garlic butter poached lobster latkes with chive crème fraiche 
By Burger & Lobster executive chef Danny Lee 
Makes 8-10 latkes
Latkes:
5 potatoes, peeled 
1 Spanish onion, peeled 
3 eggs
2 cups vegetable oil
2-4 tablespoons matzo meal, to desired consistency
Salt and pepper, to taste
Finely grate the potatoes and onion into a bowl. Drain off excess liquid. Mix in eggs salt and pepper, working quickly so the potato does not oxidize. Add matzo meal to desired consistency. Add 1/4 cup oil to heavy skillet over medium high heat. Drop in two or three 1/4 pounds of potato mixture. Pat down to about a half inch think and fry until golden brown on both sides, turning only once. Remove and drain on paper towels. Repeat until all the mixture is cooked. 
Chive Crème Fraiche: 
1 cup crème fraiche
1 teaspoon chives, chopped 
1/4 lemon, zested  
In a bowl, whip crème fraiche into soft peaks. Mix in lemon zest and top with chives.
Lemon Garlic Butter:
1 1/2 cup dry white wine
3/4 cup milk
6 teaspoons butter, chilled
3 lemons, juice only
1 tablespoon garlic, peeled and minced
3 tablespoons dill, chopped 
Olive oil 
Salt and white pepper to taste
In a small saucepan, add a small drop of olive oil and the minced garlic. Cook on a low heat until soft. Add the white wine, increase the heat to medium and let it cook for about four minutes until reduced by approximately a third.
Remove the pan from the heat and add the butter, stir to combine, then add the milk. Return the pan to the heat and stir until it begins to bubble. Remove from heat and add the lemon juice and dill. Stir, taste the sauce and add salt and pepper to taste. 
Lobster:
1 pound lobster           
In a large steamer pot, steam lobster over boiling water until slightly translucent, about three to four minutes. Remove lobster and run under cold water to cool. Remove all the meat from shell. Cut meat into large chunks.  
Re-warm lemon garlic butter and add lobster meat to finish cooking over medium heat for two to four minutes. Remove lobster meat from butter with slotted spoon to drain and place on paper towels to drain further.    
Assembly:
Place about an ounce of lobster meat on each latke. Garnish with the chive crème fraiche.