Considering a mobile wallet? Here are 5 things you need to know.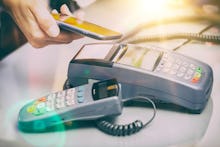 Is there anywhere we don't go with our phones? The answer is no, not even the bathroom. We're that attached.
With our devices never far from hand, along with increasing adoption of iOS and Android mobile commerce platforms, many consumers are waking up to the convenience, utility and security of mobile wallets. Nearly one in four mobile phone owners in the United States reported having made a mobile payment in 2015, according to an annual survey by the U.S. Federal Reserve Board of Governors, double the percentage in 2011.
So, as you stand in that holiday shopping line, wondering if it's time you gave mobile wallets a try, here are five things to consider.
1.  You'll never leave home without it
According to the Capital One Wallet Survey conducted in November, more people would turn around and drive back home to get their phones (78.1%) than their wallets (70%). Only 62.6% of the nearly 2,000 surveyed would go back to get their driver's license.
Many stores that accept mobile payments don't require you to show your ID. Once you set up mobile payments on your phone, all that's required is a fingerprint scan on your smartphone or a four-digit passcode you select in advance. You may still need to sign for your purchases, and stores may still limit the amount you can spend using mobile payments, so ask before you splurge.
2. Thwarting thieves
The virtual scratch in your mobile wallet is more secure than the cash or cards in your billfold or pocketbook.
While stolen cash can't be recovered (unless you're insured for just such an occasion), many mobile wallets secure your card transactions by not transmitting the number. Instead, they send a one-time security code specific to that transaction and unique to your phone. The code is verified by the bank, which authorizes the payment. The merchant doesn't get access to your credit card or personal information.
Mobile wallets also use near-field communication, which requires your device to be within 4 to 5 millimeters from the payment terminal. In addition, payment codes are only generated when you initiate the transaction. Both make it much harder for digital pickpockets to wirelessly "skim" your data.
Notifications and alerts can also help you track spending and card usage — especially when someone else is using it. The Capital One Wallet, for example, provides instant purchase notifications each time a purchase is made on your linked credit card, so that you can react quickly if you suspect theft or fraud.
3. Your phone is not your wallet
Losing your phone is a massive bummer, but it's not the same as losing your wallet.
Many smartphones, including those with the Android and iOS operating systems, let you locate, lock or wipe data remotely from your missing phone. Even if you neglected to set up a passcode to unlock your device, your mobile wallet won't work without a passcode or your fingerprint.
Other devices can also protect your mobile wallet, like the Apple Watch, which requires you to re-enter a four-digit passcode to activate Apple Pay each time your remove it from your wrist. And wallet apps themselves have another layer of security — the Capital One Wallet, for example, enables you to remotely "lock" (and unlock) a missing or stolen credit card.
4. What else is in your wallet?
Mobile wallets do more than make checkouts faster. Like a physical wallet, they can virtually store gift cards, loyalty cards, receipts and even movie tickets and airplane boarding passes. Gift card storage is a particularly smart feature, given consumers' tendency to let gift cards go to waste — a 2014 study by CardHub estimated that Americans squandered some $44 billion in unused cards since 2008.
Many mobile wallets integrate with apps from retailers such as Macy's, restaurants such as Dunkin' Donuts, ticket sellers such as Eventbrite and airlines, including Southwest, to serve up boarding passes, coupons and reward notifications. To be sure, only a tiny number of merchants have apps that integrate with digital wallets, but that number is slowly growing.
5. Your wallet is a platform
"The future is already here," science fiction author William Gibson famously said. "It's just not evenly distributed." But where there's consumer demand, the future soon follows.
In 2015, Swiss watchmaker Swatch partnered with Visa to create a "pay-by-the-wrist" watch called the Swatch Bellamy. Lyle and Scott, a British haberdashery, has experimented with integrating contactless payment chips into a handful of rain jackets, keyfobs and wristbands. Though these efforts include only the ability to pay for goods, the technology can easily be expanded to include other data contained in digital wallets.
While the option isn't pervasive now, location-based coupons and deals can also be served up through digital wallet apps. Each time you fire up a loyalty or rewards card, it can be programmed to give you a coupon based on what you're buying. Coupled with beacons installed in physical stores that detect when you're in the store, it can send a notification to your phone about specials as you browse the racks.
While some consumers are embracing mobile wallets as a thrilling taste of the future, many are still hesitant or just plain set in their ways. But financial institutions are working hard to change that and the payoff is clear: Digital wallet users tend to report higher satisfaction rates with their banks and make larger transactions. Banks and tech companies will continue to look for ways to add value to the equation, with loyalty programs, discounts and other services to entice consumers to the tipping point.
Tom Poole, managing vice president of mobile commerce at Capital One, says those benefits go well beyond simply making payments. "It's about finally giving consumers a sense of control of their money, that blends real-time with spending intelligence to frame important decisions clearly and quickly," Poole said in an email.  Whether it's "calling their attention to the unusually generous tip that they left" or the fact that "the music subscription service they were trialing is beginning to charge them," he added, "in every case, it is about giving them the control to do something about this information."
Unless noted otherwise in this post, Capital One is not affiliated with, nor is it endorsed by, any of the companies mentioned. All trademarks and other intellectual property used or displayed are the ownership of their respective owners.