'Dunkirk' trailer: Breakdown of Christopher Nolan's WWII epic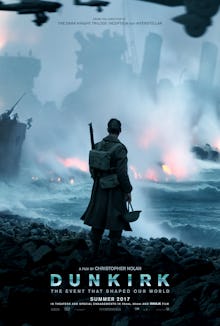 There are only so many directors whose attachment to a film can sometimes draw larger audiences than the actors in front of the camera. Steven Spielberg, Martin Scorsese and Quentin Tarantino are just a few examples — but Christopher Nolan definitely deserves a spot on such a list. Nolan's next film, the WWII-themed epic Dunkirk, just dropped its first official trailer, and it's pretty much awesome.
Nolan jumped onto the Hollywood scene with his 2000 film Memento, but it was his turn as the Batman Begins director that made him a household name. Since Batman Begins, Nolan directed two follow-up films, The Dark Knight and The Dark Knight Rises, as well as science fiction epics Inception and Interstellar. 
Dunkirk sees Nolan move from his science fiction wheelhouse to the shores of WWII France and the Miracle of Dunkirk. While a short teaser for the film was dropped in August, the latest trailer gives us our first real look at what a Nolan-helmed WWII film looks like. 
You can check out the trailer below:
Dunkirk stars Nolan's usual suspects.
Like many great directors, Nolan has a roster of actors he likes to work with in his films. Dunkirk stars two frequent Nolan collaborators: Cillian Murphy and Tom Hardy. The trailer gives us a few looks at both Murphy and Hardy who, including Dunkirk, have starred in five and three Nolan films respectively. 
Notably absent from the trailer, and the cast list, is Michael Caine, who has starred in six Nolan films, including every major release since Batman Begins. Don't be shocked if Caine squeezes in a cameo, though that may just be wishful thinking. 
Dunkirk truly is a WWII epic.
Despite the film centering around just one event in WWII, make no mistake, Dunkirk will be a film of epic proportion. While the film's budget has not been officially reported, this early trailer alone shows it must be huge. 
The trailer features gorgeous shots of aerial warfare, oceanic explosions and quite a few instances of the various characters fighting for survival. Further, Dunkirk was shot on 65 mm film, so it will likely make for quite the visual experience. 
With Nolan's last four films all earning over $675 million worldwide, Dunkirk could very well pass Saving Private Ryan's $216-million record as the highest-grossing WWII-themed film ever.
The cast is superb.
On top of Tom Hardy and Cillian Murphy (mentioned above), Dunkirk's cast includes recent Oscar winner Mark Rylance, four-time Academy Award nominee Kenneth Branagh and a host of talented young actors, most of which are on full display in this first trailer. 
Other cast members include Fionn Whitehead, Harry Styles, Aneurin Barnard, James D'Arcy, Jack Lowden, Barry Keoghan and Tom Glynn-Carney.
Dunkirk is a story about survival. 
A film based on the evacuation at Dunkirk clearly is meant to be all about the struggle to survive, and that fact is on full display in the trailer. Shortly after Kenneth Branagh's character states "there are 400,000 men on this beach," the trailer cuts to an incoming aerial assault on the soldiers. 
Following are clips of soldiers abandoning ship, being rescued at sea and bracing for battle. Of course, the written words are evidence enough of the film's theme: "Survival is victory."
Synopsis
You can check out the official synopsis for Dunkirk below: 
'Dunkirk' opens as hundreds of thousands of British and Allied troops are surrounded by enemy forces. Trapped on the beach with their backs to the sea they face an impossible situation as the enemy closes in.
Dunkirk is scheduled to be released by Warner Bros. on July 21, 2017.