Obama just took an important stand for reproductive rights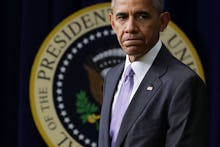 Reproductive rights are more imperiled than they have been in over 40 years, which makes President Barack Obama's move to indefinitely protect Title X funding for Planned Parenthood and its ilk particularly meaningful. 
Unfortunately, because nothing the Obama administration does is sacred under Donald Trump, meaningful is about all his action can be.
On Wednesday, the Department of Health and Human Services finalized regulations to the Title X Project Grants for Family Planning Services, an amendment it had originally proposed in September. The rule will be effective 30 days from its publication in the federal register on Dec. 19, and stipulates that Title X funds cannot be denied to a health care provider "for reasons other than its ability to provide Title X services." 
It's important to note those services never include abortion. Title X funds, which overwhelmingly support low-income Americans, go toward things like breast and cervical cancer screenings, contraception, STI testing and sexual education — which includes abstinence. All of these are among the services Planned Parenthood provides to its 2.5 million annual visitors. But because some Planned Parenthood centers also offer abortion services, the organization has been stigmatized as the nation's leading abortion provider, rather than its leading reproductive health care provider. Thus it is the most prominent target of conservative lawmakers looking to outlaw abortion. 
As the Huffington Post reported, 24 state legislatures have attempted to cut government funding for Planned Parenthood since 2011. Since 2015, the Republican members of Congress have voted to do this nine times — and plan to do so again shortly after Trump takes office in January. The DHHS' new rule would prevent lawmakers, at least in the states, from cutting funds without a legitimate reason. 
In the wake of Trump's election, people who worried that the new president would sanction the war on abortion rights, thereby shuttering reproductive health clinics like Planned Parenthood, took solace in the fact that the Obama administration had already moved to protect many of those clinics for good. 
The unfortunate truth of the Trump presidency, though, is that he can unravel most of Obama's legacy, and he is appointing a Cabinet that seems poised to do precisely that. Rep. Tom Price, his selection to head the DHHS, is a committed opponent of both abortion and the Affordable Care Act. He has repeatedly voted against supplying Title X funds to any reproductive health care provider that also provides abortions. He believes Obama's stipulation that contraceptive costs be covered by employers or insurers to be an assault on religious freedoms.
As bleak a picture as the Trump administration presents, Planned Parenthood has vowed to keep fighting on a state-by-state basis. 
"We will not back down, and we will continue to fight for our patients' access to care," Cecile Richards, Planned Parenthood president, said, according to the Huffington Post. "Every person deserves the right to control their own bodies, their own health and their own well-being without politicians getting in the way."
Whether or not every person will retain that right remains to be seen, but in any case, a strategic move to offer lasting protection for reproductive rights deserves a heartfelt "Thanks, Obama."