No, having an abortion isn't linked to anxiety and depression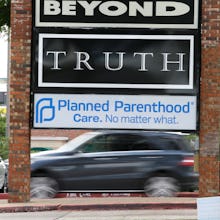 Abortion opponents would have women believe terminating a pregnancy won't just lead to feelings of regret, but wider mental health issues as well.
In addition to misleading claims that abortion increases one's chances of developing breast cancer, informational pamphlets distributed in nine states also allege the procedure is linked to anxiety and depression, even requiring women to seek counseling to learn of abortion's supposed effects on their mental well-being. 
According to the Atlantic, a handout provided to patients in Texas suggests undergoing the procedure may lead to "depression or thoughts of suicide."
"Some women, after their abortion, have also reported feelings of grief, anxiety, lowered self-esteem, regret, sexual dysfunction, avoidance of emotional attachment, flashbacks and substance abuse," the booklet reads.
A new study from the University of California, San Francisco sheds doubt on these claims.
"We found no evidence that women who have abortions risk developing depression, anxiety or low self-esteem as a result of the abortion, either immediately following, or for up to five years after the abortion," said UCSF social psychologist M. Antonia Biggs in a press release.
In fact, after interviewing and observing 956 women who received abortions over the five years following the procedure, Biggs said her team found the opposite to be true.
"Women who were denied an abortion had more anxiety and lower self-esteem immediately after being turned away," she said.
The study's authors wrote that having to travel to another abortion facility after being denied the procedure elsewhere — or having to raise additional funds to pay for the abortion itself — can also stoke stress and depressive symptoms. 
Their findings also buoy other recent studies that show a vast majority of women feel confident going into their procedure and have no regrets after the fact.
Those who fight for abortion access or who have sought abortions themselves have long known what these studies prove.
A Reddit user from Austin, Texas, shared a gut-wrenching story of his wife carrying an unhealthy pregnancy to term in June.
"We tried a litany of emergency measures, but the sack [sic] was already outside the womb. There was nothing that we could do," wrote 11th_Doctor_Whom. "Because of this, and his age, any attempts to induce labor would be considered late-term abortion."
He also wrote about how he and his wife cried themselves to sleep every night and spent multiple hopeless days in the hospital.
As the Atlantic pointed out, this study is significant because researchers followed up with their subjects over many years, debunking any notions that anxiety, depression or lingering regret could "creep up" on women years after an abortion. 
"There is no evidence to justify laws that require women seeking abortion to be forewarned about negative psychological responses," the study concludes. "Women considering abortion are best served by being provided with the most accurate, scientific information available to help them make their pregnancy decisions."