Restaurants open on Christmas Eve 2016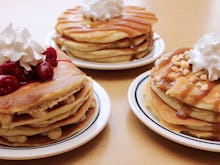 It's the night before Christmas, and there's no way that you're cooking. Before you grab that microwave meal, consider leaving the house and treating yourself to a restaurant meal to kick off Christmas Eve. Fast food is fine, if that's your thing. These restaurants will be ready to feed you come Dec. 24. 
The Melting Pot
Treat yourself to some Christmas Eve fondue at The Melting Pot. Christmas Eve menus and hours change by location.
Waffle House
Open every day of the year at every hour, you can sneak in an extra smothered and covered pre-Christmas breakfast at Waffle House this Christmas Eve.  
IHOP
Open 24/7, it's never a bad time to stuff your face with seasonal dark chocolate peppermint pancakes. 
Olive Garden
If Christmas Eve makes you think soup, salad and unlimited breadsticks, head to Olive Garden for an Italian-style feast. Closing hours will vary by location.
Benihana
America's chain hibachi restaurant, Benihana, will be open across the country on Christmas Eve. Check with your local restaurant for hours. 
Ruth's Chris Steak House
Starting at 2 p.m., Ruth's Chris will be sizzling up steaks, sides and sweets for Christmas Eve. Make a reservation at your local steak house. 
Cheesecake Factory
In case you wanted to gorge on flavored cheesecake and Louisiana chicken pasta for Christmas Eve, Cheesecake Factory will be there for you. Hours will change by location, and a company representative recommends calling your local restaurant for hours. 
Chipotle
Sneak in one last carnitas burrito before Christmas starts — a Chipotle representative confirms that Chipotle restaurants will be open on December 24, but close at 3 p.m. in their respective time zones. Chipotle will be closed Christmas Day.
Red Lobster
A representative for Red Lobster confirmed that the restaurant will be open on Christmas Eve, but closed Christmas Day. Sneak out some extra cheddar biscuits to leave out for Santa. 
Starbucks 
Sip another Gingerbread latte to wait up for Santa; Starbucks stores will be open on Christmas Eve, with closing hours varying by location.