Fox's 'Star' TV Show Premiere: 6 things to know about the new drama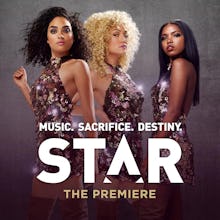 Lee Daniels set the bar high with the success of his Fox series Empire. Now he's introducing Star, which premieres at 9 p.m. Eastern on Wednesday following the fall finale of Empire. After the special airing, the new musical drama featuring Queen Latifah, Lenny Kravitz and Benjamin Bratt will then return Jan 4. 
The singing, dancing and high-profile cameos from Star previews may be comparable to its predecessor, Empire. However, Daniels has assured Star will be in a different lane. Here are six things you should know about Star.
It's a rags-to-riches story.
"This is personal for me. I come from the streets," Daniels said in a trailer for Star. I was homeless." He infused his struggles with chasing his own dream into shaping the story of Star, the lead character played by newcomer Jude Demorest.
Star, who spent her formative years in the foster care system after her mother's death, has decided to go after a singing career. First, she reconnects with her sister Simone, played by Brittany O'Grady. Then she goes to Atlanta to reconnect with her godmother Carlotta, played by Queen Latifah. 
As fate would have it, Star and Simone connect with Alexandra, played by Ryan Destiny, through Instagram. Alexandra is the rich daughter of a rock musician named Roland Crane, played by Kravitz. She has access to the money and clout that allows them to start recording.
The show will center around the young women showing and proving themselves as newbies in the music industry. 
It was inspired by Dreamgirls.
When Daniels was 16, he snuck into the Broadway musical Dreamgirls, which was adapted into the successful 2006 film starring Jennifer Hudson, Beyoncé and Anika Noni Rose. That moment changed his life and he wants Star to emulate that.
"I wanted people today to feel the same way that I felt when I saw Dreamgirls for the first time," he said to USA Today.
Is Star just like Empire? 
Not quite. Although appearances from Naomi Campbell, who had a recurring role on Empire and Tyrese Gibson are expected, Daniels said Star and Empire are different. 
"Empire is more the fabulous side of life, where you made it already," Daniels told USA Today. "This is from the bottom up, all the grit and grinding that helps you get to a place like that."
He also cited Sex and the City, Paris Is Burning and Valley of the Dolls as inspirations.
Star has already written a real-life hit.
Demorest co-wrote girl group Fifth Harmony's "Work From Home" which peaked at No. 4 on the Billboard Hot 100 this year.
The show explores a transgender character.
Carlotta's daughter Cotton, played by Amiyah Scott, is transgender. In this season, Carlotta is having difficulty accepting her daughter for who she is, and the obstacles of their relationship plays out on screen. Daniels cast Scott, a transgender woman to play this role. In real life she is a model who grew to popularity on Instagram. 
Race and class intersect.
Daniels also told USA Today he wanted to bring conversations surrounding race to the series following constant news of police brutality victims being young and black. Star, who is white, is primarily moving through black spaces on the show. Also, her sister Simone is half-black. "We hadn't seen anything like it before," he said.