'Stardew Valley' PS4 and Xbox One Review Roundup: Critics weigh in on the console versions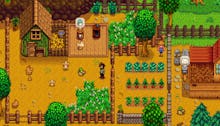 After taking the gaming world by storm on PC earlier this year, the charming farm and lifestyle simulator Stardew Valley has made its way to consoles. It was released Tuesday on PlayStation 4 and Wednesday on Xbox One for $15.
Stardew Valley for Nintendo Switch confirmed.
Wii U owners may be wondering when their Stardew Valley port will arrive. While a Wii U version was in the works, the game's developer, ConcernedApe, confirmed in a blog post that it has been canned. But not all hope is lost. The post confirmed a Nintendo Switch version is in the works instead:
Stardew Valley will not be coming to the Wii U, however. Looking at Wii U and the current gaming landscape, we made the difficult choice to shift our development efforts to creating a version for Nintendo Switch.  I am really looking forward to the Switch, and I believe that the Switch's unique capabilities could create some exciting opportunities for Stardew Valley. I do want to emphasize that I am absolutely committed to seeing Stardew Valley on Nintendo platforms, and I really do appreciate your support and understanding in this.
While that's surely disappointing for some Wii U owners, it's good to know the Wii U version died so the Switch version may live. Add it to the list of big games making their way to Nintendo's new console, which was revealed in October.
Game critics from sites like IGN and Kotaku have gotten their hands on the PS4 and Xbox One versions of Stardew Valley. Thankfully, it sounds like it's a solid version of the game, with one notable drawback.
Stardew Valley reviews: PS4 and Xbox One players aren't missing out on any features.
Perhaps most importantly, the console versions of Stardew Valley offer the same staggering amount of content as the PC original, according to IGN.
Stardew Valley's transition to consoles is a smooth one. Both the PS4 and Xbox One versions include the great post-launch updates we've seen in the PC version, like the new farm templates, divorce, bug fixes, and more romance options.
That's crucial, as the appeal of Stardew Valley largely lies in its ability to remove entire weekends from your life with its simple yet addictive country lifestyle mechanics. You can lose yourself to farming, friendship, dating and exploration in all versions of Stardew Valley.
Stardew Valley Xbox One reviews: Minor performance issues
IGN's review did note the Xbox One version doesn't always run smoothly depending on where you are:
Unfortunately, Xbox One version does suffer from some slight stuttering in larger areas like the farm, but developer Chucklefish confirms that there is a planned update to fix it within the coming weeks. Otherwise, Stardew Valley for consoles is still the same great game we first played on PC, and comes just as highly recommended.
Thankfully, it sounds like it will be fixed soon. Hopefully, it will run smoothly on Switch, as well. 
Stardew Valley reviews: The controls could be better.
One of the few complaints people had about the PC version of Stardew Valley was that playing it with a controller wasn't always ideal. The game's menus required players to move the mouse cursor using an analog stick, which is a little clunky.
Unfortunately, the PS4 and Xbox One versions do not feature redesigned menus, meaning the same control issue is present in those versions of the game, according to Kotaku.
It isn't an unmitigated disaster—walking around feels better with a controller than it does with a keyboard and mouse, and the fishing minigame is definitely easier. The problem is that the game still requires you to use a cursor for some things, like claiming quest rewards or doing inventory management. It's very difficult to control that cursor with a controller.
IGN also noted that menu navigation isn't easy, but acknowledged that it didn't get in the way of her experience too much:
The controller mapping is taken from the PC version, so they're familiar, but the mouse cursor that's used to navigate menus is a little on the slow side. Still, most of my time was spent farming, talking with neighbors, or in dungeons, so this wasn't a deterrent for me when playing these versions.
Destructoid pointed out that the game's farming mechanics can be slightly less precise on a controller than on a mouse and keyboard:
Given that the pointer is a main component of gameplay, there are some slight difficulties playing on a controller that aren't really present playing with a keyboard and mouse. For example, accidentally gifting items and planting/watering crops in the wrong direction are fairly common as it's much harder to be cognizant of the pointer location.
While Stardew Valley certainly isn't unplayable by any stretch of the imagination, you should go in knowing that the controls will take some getting used to. Hopefully, these issues are addressed with future updates. Maybe the Switch version will even have touch-screen support.