What will happen in the 'Designated Survivor' winter finale? Episode 10 preview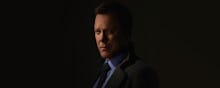 ABC's new hit show Designated Survivor has been one of the notable additions to network television this fall. While its ratings have dwindled since premiering to 10.04 million viewers in September, the show continues to be one of the most DVR'd network series, often nearly doubling its live audience. The series also has a healthy 85% score on Rotten Tomatoes.
If you're a fan of the show about an unlikely president, it's time to set your DVRs again. Episode 10 of Designated Survivor, which happens to be the winter finale, airs at 10 p.m. Eastern Wednesday.
Designated Survivor stars Kiefer Sutherland as Tom Kirkman, a lower-tier Cabinet member who ascends to the presidency following a devastating attack on the U.S. Capitol during the State of the Union. In addition to never being elected to office, we find out in the premiere that Kirkman was asked to resign just hours before the attack on Washington. When the nation learns of this fact, it places a cloud over what some were already calling an illegitimate presidency. 
The series has done a stellar job highlighting Kirkman's struggle as he adapts to his new position while also playing up the conspiracy around the Capitol attack and how it may relate to government insiders. Said conspiracy takes center stage in the winter finale. 
There is a traitor in Washington
Episode 10, titled "The Oath," comes at a point where tensions are running high. The audience has known for some time that Peter MacLeish — Kirkman's choice for vice president and the attack's only survivor — is somehow connected to the Capitol bombing, but the president has remained in the dark thus far.  
FBI agent Hannah Wells (played by Maggie Q) has suspected MacLeish from the beginning, but the last episode ended with her getting into a car accident on her way to testify at MacLeish's confirmation hearings. Whether she'll make it in time to stop MacLeish from assuming the vice presidency remains to be seen. 
While President Kirkman is unaware of MacLeish's role in the Capitol bombing, he did just find out there is a traitor in Washington. In the latter moments of episode nine, it was revealed the attack was carried out in the exact same manner as a government war game several years prior. Begging the question: Who is the traitor (if not just MacLeish)? 
Synopsis and promo
The synopsis for episode 10 of Designated Survivor is as follows (via TV Guide): 
Shocking information related to the Capitol bombing case gives President Kirkman reason to suspect there could be a traitor in the White House, which he asks Emily to quietly investigate. Meanwhile, concerns are raised about Congressman MacLeish.
Check out the trailer for "The Oath" below, and remember to set those DVRs!