Russia just prevented the UN from thanking Ban Ki-moon for his work on LGBTQ rights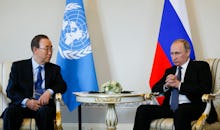 The United Nations Security Council wanted to thank outgoing Secretary-General Ban Ki-moon for his contribution to furthering LGBTQ rights — but Russia prevented it from happening. 
As one of five permanent members on the Security Council, Russia wields considerable influence. 
The original statement of thanks to Ban, supported by the United States, read as follows, Reuters reported: "It is thanks to you, Mr. Secretary-General, that women, young people, and the LGBT community have been heard and assisted, and today their voices sound louder and stronger in this headquarters and around the world."
Russia demanded the language be changed so as not to mention the LGBTQ community, according to diplomats involved in the private talks, who spoke with the Associated Press on conditions of anonymity.
The revised statement made no mention of LGBTQ issues, simply saying due to Ban's contributions, "the most vulnerable or marginalized have been increasingly heard and assisted by the United Nations," according to AP. 
Russia has a history of systematically targeting the LGBTQ community. In 2013, President Vladimir Putin officially signed into law a bill prohibiting gay propaganda, ostensibly to protect children. 
The country subsequently received international backlash, as the Sochi Winter Olympics followed shortly after the law's introduction, leading many to argue the International Olympic Committee was condoning the host country's discrimination against gay people. 
Anti-LGBTQ sentiment is pervasive in Russia's political landscape, as evinced by the introduction of an anti-gay flag in July 2015.
"We have to warn about gay fever at home and maintain traditional values," Alexey Lisovenko, a leading figure of Russian United — the political party behind the heteronormative flag — said to Russian newspaper Izvestia.
"[T]he United States must have gone completely mad and now its gay delirium is threatening the entire civilized world," he also said via a Facebook post, Russia Today reported.
And Russia's staunchly anti-LGBTQ stance has permeated the international body that is the U.N., it would seem. It is not alone, with a number of African and Arab member nations in favor of quelling LGBTQ rights and expression, too. China is among the crew.
In March 2015, Russia led a group of 43 countries in the U.N. that unsuccessfully advocated for and voted to overturn a recently introduced rule which grants same-sex couples the same rights and benefits as heterosexual employees and their partners.