These Muslim women are refusing to remove their hijabs, despite the rise of attacks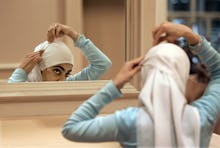 On Wednesday, the New York Times reported that several imams in the U.S. told women in the Muslim community they can remove their hijab if they fear being targeted. This comes on the heels of several anti-Muslim attacks in the United States.
Despite the alarming rate of anti-Muslim hate crimes in the United States, Muslim women who wear the hijab are still devoted to wearing their headscarves. Jana al-Akhras, 23, told Mic in an email that she didn't think about removing her headscarf in response to recent events of Muslim women being targeted in attacks. 
"I have not [considered removing my hijab]," al-Akhras said. "Hijab is something I chose to undertake years ago for very specific reasons. Those reasons have not changed just because circumstances have."
Throughout the 2016 presidential election, anti-Muslim rhetoric has become normalized, due largely in part to President-elect Donald Trump's dialogue and policies introduced by the Republican Party. In May 2016 report, Georgetown University documented 53 reported anti-Muslim attacks in December 2015.
Imam Omar Suleiman, president of the Yaqeen Institute for Islamic Research, said he hasn't heard of any religious leaders saying women in fear of safety can remove their headscarves.
"I don't know of any imam or fatwa [or any other ruling body] saying it's permissible for women to remove their headscarves," Suleiman told Mic in an email. "We need to stand strong and provide as much support to people, especially Muslim sisters trying to observe hijab, so they don't feel intimidated in a country that prides itself on religious freedom."
Al-Akhras, a Palestinian-American, said she understands why other Muslim women feel pressured to ditch the hijab.
"Hijab means so many different things to different people," Al-Akhras said before noting she can't speak on behalf of all Muslim women. "I'd be lying if I said it didn't make me sad. Not because they removed it, but because something outside of themselves made them doubt the reasons they chose to wear it in the first place."
Saman Quraeshi, 30, said she often wonders if her hijab prompts people to think negatively about her. Quraeshi is the program director for the Ikram Foundation, a nonprofit organization dedicated to the empowerment of Muslim women. 
"I'm living life like I would have normally, but I would be lying if I didn't say that I often wonder if people harbor certain feeling toward me," Quraeshi told Mic in an email. "The post-Trump world feels unsettling, in response to that I have pepper spray that I carry with me in my purse."
Suleiman also encouraged Muslim women afraid for their own safety to wear a hoodie or another piece of apparel to mask their hijab. She also said it's important for Muslim women to learn self-defense tactics and other ways to stay safe.
Quraeshi, a Pakistani-American, said one of her Muslim friends gave pepper spray to all of her friends at an annual friendsgiving celebration.
Like Al-Akhras, the Muslim American said she hadn't thought about removing her hijab over safety concerns. For Quraeshi, the hijab is a symbol for her relationship with God.
"While I understand why some may choose to do that, I would like to live in a world where my actions are not motivated by fear," Quraeshi added. "The hijab, although a piece of cloth, continues to remind me that there is a lot of internal work that I need to do to become a God-conscious Muslim woman in a dynamic world."