Future Energy Secretary Rick Perry got a D in a college class called "Meats"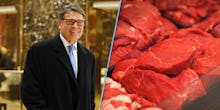 This week, President-elect Donald Trump named former Texas Gov. Rick Perry as his nominee for secretary of energy in Trump's forthcoming administration.
The Department of Energy, which requested a $32.5 billion budget in fiscal year 2017 and employed 13,814 staff members and numerous contractors in 2013, is primarily concerned with federal energy research. In particular, the DOE is responsible for the design, manufacturing and safe handling of the U.S. military nuclear arsenal. Current Energy Secretary Ernest Moniz is an accomplished nuclear and theoretical physicist, and his predecessors included Nobel Prize-winning physicist Steven Chu and Massachusetts Institute of Technology chemical engineer Samuel Bodman.
As the Daily Beast's Jeffrey Lewis noted Tuesday, while an undergraduate veterinary student at Texas A&M in the 1970s, Perry scored a D in a class simply titled "Meats."
The online syllabus for Texas A&M University's contemporary "Meats" course, ANSC 307 Meats, describes it as the integrated study of "the production of meat-type animals and the science and technology of their conversion to human food." Topics include "Meat inspection," "Kosher and halal," "Meat tenderness," "Meat color," while laboratories include "Pork evaluation" and "Ham manufacturing."
In an email to Mic, course instructor Dr. Jeffrey Savell explained ANSC 307 Meats is an advanced science class requiring students to demonstrate understanding of animal biology as well as regulatory and safety requirements in meat production.
"Animal Science 307 is a rigorous upper level science course that covers growth and development of food animals; antemortem and postmortem factors affecting meat quality; USDA inspection and regulatory requirements for the harvest and processing of livestock and muscle tissue; and the chemistry of meat color and preservation," Dr. Savell wrote.
According to a 2011 New York Times profile citing a version of Perry's transcript, Perry received two C's, a D, and an F in organic chemistry courses, and D's in economics, Shakespeare, veterinary anatomy and a class titled "Feeds & Feeding." Other grades included one A, a B, and two C's in "World Military Systems," two C's in "The Professional Officer," a C in a class appearing to deal with aeronautics, and a D in "Writing for Professional Men."
Perry eventually graduated with a degree in animal science before joining the U.S. Air Force, rising to the rank of captain, returning to farming and entering politics as a Democrat in 1984 in the Texas House of Representatives.
While as a former Air Force pilot Perry is likely familiar with some military technology, Perry has no graduate degrees and has presumably received no subsequent academic-level training in energy research or nuclear physics.
However, Perry did forget the name of the Department of Energy while listing it as one of three Cabinet-level federal agencies he would eliminate during a Republican presidential primary debate in 2011.
Dec. 14, 2016 at 8:49 p.m.: This article has been updated.