President Barack Obama marks Sandy Hook anniversary in heartfelt Facebook post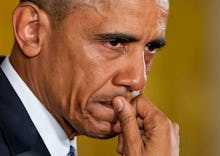 President Barack Obama on Wednesday marked the four-year anniversary of the Sandy Hook Elementary School massacre with a heartbreaking Facebook post, saying he will never forget the 20 children and six educators who were killed in one of the worst mass shootings in American history.
"We still share their grief. We're still inspired by the survivors and the families who have worked to make a difference. And we've tried to change," said Obama, who has often referred to the Sandy Hook massacre as the "worst day" of his presidency. 
Obama lamented the fact that even after the tragedy, Congress has not passed gun control measures to prevent more mass shootings such as the one at Sandy Hook.
"My administration has taken action to tighten the background check system and make it more efficient, strengthen enforcement of existing laws, boost gun safety technology and help more Americans suffering with mental illness get the help they need," Obama said. "Still, Congress failed to pass gun safety reforms, including universal background checks that had the bipartisan support of the vast majority of Americans, even as more mass shootings have riddled America in the years since."
However, Obama added, he is hopeful that gun reforms will come.
"I still believe that there are enough good people on both sides of this issue who care more about protecting our kids than defending effortless access to guns for those who would do our kids harm," Obama said. "I still believe we have the courage to change."