'Overwatch' Zenyatta Christmas Skin: Nutcracker costume update catches fans by surprise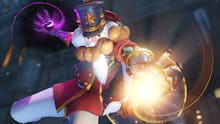 The Overwatch fandom suspected some kind of wintry, Christmas-themed event was on its way for a while, which left plenty of time for fans to theorize what types of special skins each character would get. Winston? Probably a yeti or a Grinch-like costume, right? Nailed it. Torbjörn? Definitely going to be Santa. But what about the peaceful, floating, robotic monk Zenyatta? 
Fans had speculated his orbs would probably turn into something festive, like ornaments or snowballs, but there wasn't a single clear holiday archetype that seemed to fit.
So, when players logged in on Tuesday afternoon after downloading the Overwatch update and saw this —
— well, to put it mildly, turning Zenyatta into a goddamn floating nutcracker was not an option anyone saw coming.
This, of course, led to the Overwatch fandom expressing their excitement on social media and making all sorts of nut-related puns. Here are some of the best reactions from around the web.
Overwatch Zenyatta Nutcracker Christmas skin: The fandom reacts
More Overwatch news, updates, tips and tricks from Mic:
For more on Overwatch, read our guide to the new Mei-centric brawl, check out all the updates in patch 2.01, uncover the hidden details in the Winter Wonderland event and check out all the other unlockable goodies you can earn for Overwatch's other characters.