Lady Gaga's "Million Reasons" video is a religious experience — really though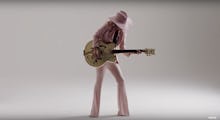 It's been 85 days ("who's counting?" "we are!") since Lady Gaga released the video for "Perfect Illusion," the first single off her fifth studio album, Joanne.
And now, after a grueling three month wait which saw Gaga performing live versions of the song on Saturday Night Live, the American Music Awards, the Victoria's Secret Fashion Show runway, X-Factor UK and Alan Carr's Happy Hour, the highly-anticipated video for the album's second song, "Million Reasons," is here.
The video, as with most Gaga productions, is a highly spiritual journey. So let's go through it together, shall we?
The video picks up right where "Perfect Illusion," left off, with a strung out Gaga thrashing around an empty desert, her hangover settling in nicely.
Before long, a series of black SUVs pull up to pick-up our fallen hero. 
We cut to night, where we get our second glance at Gaga, this time clad in a sheer pink trench, aviators and a black baseball cap (look changes in tow, obviously), entering what appears to be a concert venue.
Suddenly, we're in black and white, as Gaga, now backstage, opens a mysterious gift box.
Without revealing the box's contents, we revert back to color, and the reveal of her now-signature Gladys Tamez-designed wide-brimmed pink hat.
We then are treated to the video's main visual, a highly-silhouetted Gaga, clad in head-to-pink, with nothing but her guitar and a giant box which she sits atop.
As the second verse begins, we flash back to the beginning of the video to detail what got her here. 
We see a group of friends emerge from the black SUVs of earlier and run to save their fallen Joanne.
Gaga breaks down in tears.
We're then shown the contents of the mysterious white box from earlier. A note from, presumably, Gaga's sister, Natali Germanotta.
The contents? A rosary, which Gaga clings to her chest as she breaks down in more tears.
More hugging. 
More crying.
More wide-brimmed hat.
But enough play-by-play, time to watch for yourself: