Orphans trapped in eastern Aleppo plead for help in heartbreaking video: "We want peace"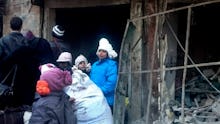 A group of orphans trapped inside besieged Aleppo are asking the "human rights and children's rights organizations" of the world to help get them out of the Syrian city. In a video posted to YouTube by the Syrian-American Medical Society, 47 orphans assembled to send a message to the world.
"This might be the last day you see me and hear my voice," 10-year-old Yasmine Kaimouz says in the video. Kaimouz has lived in the orphanage for two years; her parents were killed in the conflict. "We are addressing this letter to the human rights and children's rights organizations. We are asking that you give us our human rights. We are asking that you get us out of Aleppo.
"We all wish that we could leave Aleppo and eat and drink in peace. We want peace. We cannot step outside because of the ongoing bombing and shelling. We are afraid. We hope that you will evacuate us from here so we can live in peace like the rest of the world."
After four years, Aleppo fell Tuesday after unrelenting bombardment devastated the city. Forces backed by the government of President Bashar Assad reportedly shot civilians on sight, in their homes and in the street. A ceasefire was announced Tuesday, which would've allowed those trapped inside the city to be evacuated. That ceasefire was broken Wednesday morning but is now underway, according to the BBC. 
According to the New York Times, the Red Cross and the White Helmets, a volunteer Syrian civil defense group, are both working to get residents and wounded rebel fighters out of eastern Aleppo, where the orphanage in the video is reportedly located. Their efforts are reportedly frustrated by continued shelling from pro-regime troops, who are firing on ambulances. 
"We should keep in mind that this morning's start of some evacuations cannot erase months of illegal besiegement as well as years of brutal, indiscriminate bombing," a spokesperson from the humanitarian organization CARE said in an emailed statement Tuesday morning.
"Yesterday the evacuations got blocked. There are thousands of people trapped there who need safe passage. Aleppo is just one of the many besieged areas across Syria. Today it is Aleppo, tomorrow it might be another Syrian city with the same onslaught. It can't continue like this."