Female Israeli parliamentary aides stage "miniskirt" protest against sexist dress code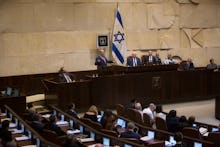 Over 40 women staged a protest in the Israeli parliamentary building on Wednesday after multiple female parliamentary aides were banned from entering earlier this week due to the length of their dresses.
According to the Washington Post, the Knesset's dress code prohibits "tank tops, cropped tops, shorts, ripped pants, shirts with political slogans, as well as short skirts and dresses," though guards don't typically enforce these rules strictly or unilaterally. 
Nonetheless, they decided to go so far as to hold up aide Shaked Hasson for over an hour on Monday, reportedly enlisting five guards to examine the length of her dress, which they ultimately deemed unfit for entry.
"Members of the Knesset need aides and assistants to work with them no matter what they are wearing," parliamentarian Merav Michaeli said in a statement reported on by the Post.
Wednesday's protesters — all donning dresses or skirts — were eventually allowed to enter the building after being "initially" turned away. Many men joined their female colleagues in protesting the dress code, wearing dresses themselves (as can be seen in a photo from the Ottawa Citizen) or stripping down to their undershirts.
While some would view the Knesset's policies are being fundamentally about "professionalism," others easily see it for what it is: discrimination. 
Parliamentarian Manuel Trajtenberg told the Jerusalem Post he had "no doubt" the dress code was fueled by discrimination, pointing out, "The dress code for men has nothing to do with style, like the women's code does." He called for the guards to respect rather than "humiliate" the women who work in parliament. 
"The small-minded focus on the clothing of women who are not dressed provocatively in any way and are dressed formally enough while doing their job faithfully turns women into objects instead of treating them like everyone else in the House," Liron Shalish, a spokeswoman for MK Yael German, told the Jerusalem Post.
She added, "I didn't choose to work in the place laws are passed so ... people would focus on my body instead of letting me do my job."