What time does 'Super Mario Run' come out? Everything we know for the Dec. 15 release date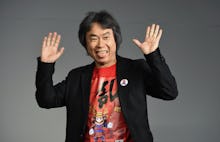 Super Mario Run is almost here! The game is set to launch in at least 150 countries around the world on Dec. 15, but there's still no word on exactly what time it's scheduled to hit the App Store. Here's everything we know on the eve of Nintendo's big mobile release on iOS (sorry Android fans).
Update: Super Mario Run is out for some people, while others still can't download the game. If you aren't seeing it yet try refreshing the App Store or closing it entirely and re-opening the app. 
What time does Super Mario Run come out? It's probably up to Apple
According to iOS app developer Ole Begemann, app-makers are not allowed to set a specific release time for their apps. They can only control the day it's released. So it's up to Apple to decide exactly when Super Mario Run will launch.
The game could be available as early as 3 a.m. Eastern (midnight Pacific) in the United States. Then again, it might not arrive until 10 a.m. or later.
It's worth noting that Apple typically releases third-party apps on a staggered schedule around the world. New Zealand is generally the first country to get access to a new app before the release travels west across time zones, eventually arriving in America. So Super Mario Run could already be live in some parts of the world before we get a chance to download it. 
What time does Super Mario Run come out? Nintendo might be calling the shots 
It's possible that Apple will give special treatment to Nintendo when it comes to the Super Mario Run release time, allowing the Japanese firm to decide when the game is available. After all, the two companies are clearly working together closely to orchestrate the launch.
Mario creator Shigeru Miyamoto revealed the app earlier this year at an Apple event. More recently, a Super Mario Run demo has been available at Apple Stores for the past week. So Nintendo may have more control than most developers would over when the game is released worldwide.
What time does Super Mario Run come out? How to find out as soon as it launches
There's no need to constantly refresh the App Store while you wait for Super Mario Run to launch. Apple actually added a new feature that will let you know as soon as it's released. Just boot up the App Store on your iOS device and tap on the game (it should be displayed prominently). Then hit the "Notify" button to get an alert once it arrives.
More Super Mario Run news and updates
If you want to know more about Super Mario Run, walk calmly toward's Mic's latest coverage, like our review of the demo, an explanation for why the game isn't free, early predictions about whether Nintendo's iPhone-first approach is helping or hurting its chances of success and a list of Android games to play while you wait.
Jan. 15, 2016, 1:02 p.m.: This story has been updated.