Yahoo Hacked Again: Latest breach said to affect more than 1 billion accounts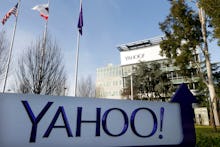 Yahoo confirmed Wednesday that they have discovered a data breach that occurred in 2013 that may have affected up to 1 billion users. The breach is the largest ever based on the number of accounts it reached, according to NBC News.
This is the second time in three months that the company has had to announce a large-scale hack. In September, the company revealed that more than 500 million accounts were stolen in 2014.
Details on latest data breach
The latest hack includes a substantial amount of users' personal account information, potentially including email addresses, names, phone numbers, dates of birth, hashed passwords and even encrypted or unencrypted security questions. 
The company said, however, that the data hack does not include information on credit card data or bank account information. Passwords weren't directly compromised either, although it's still possible for hackers to access accounts without them. Yahoo plans to directly contact users who have potentially been affected by this latest cyber attack. 
The company said they don't yet know who is behind the breach. They are working with law enforcement and a cybersecurity firm to determine the hack's origins.
In September, Yahoo said it believed the 2014 hack was performed by a "state-sponsored actor" – someone possibly working on behalf of a foreign nation's government.
Have an account? Here's what Yahoo wants you to do
As a precaution, Yahoo is requiring users to change their passwords. The company has also emailed users a list of precautionary measures, which include: changing your password as soon as possible; reviewing accounts for suspicious activity; looking out for unsolicited messages that ask for your account info; and avoiding links or attachments that come from suspicious or unknown emails
Signs of a hacked account include spam emails being sent to your contacts, your settings being changed and emails sent to you not being received, according to the Yahoo help pages. You should also monitor where your account has been accessed — if you've logged in from a suspicious place, it's likely your account information has been compromised.
Verizon deal in jeopardy? 
Mobile giant Verizon announced in July 2016 that it would buy Yahoo's digital operations for about $5 billion. But news of the hack announced in September caused Verizon to suggest it may renegotiate the terms of that deal at that time.
It's unclear yet if this latest breach will affect the deal even further. Verizon may back out and purchase another media company like Yahoo, or it may lower its offer to buy Yahoo as a result. 
Though Yahoo has been struggling in recent years, the company is not without worth: It's still the sixth most popular website, just behind Wikipedia.