Sonequa Martin-Green cast in 'Star Trek' TV show. Will that affect 'The Walking Dead'?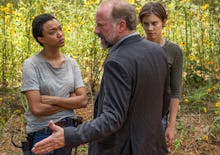 With every casting announcement, CBS' new Star Trek series, Star Trek: Discovery, looks more and more promising (despite some behind-the-scenes drama with its former showrunner). The latest casting news is also its biggest one yet, as the series has reportedly found its lead in Sonequa Martin-Green.  
Martin-Green is best known for her role as Sasha on The Walking Dead, and in Discovery will play the ship's lieutenant commander "with caveats," whatever that's intended to mean. A source confirmed the news to EW, but CBS Television Studios had no comment. Despite that, it begs the question: What's going to happen to Sasha on The Walking Dead, and should we expect the character to be killed off soon? 
The Walking Dead, even more than Game of Thrones, has a propensity to kill off characters at a moment's notice (just look at the season seven premiere). Plus, any time you see an actor in a television series get picked up in another major role, it likely spells doom for them in their current show. Just keeping the conversation to Walking Dead-related television, Fear The Walking Dead actress Alycia Debnam-Carey was unceremoniously killed off the CW's The 100, reportedly in part because she couldn't carry on both shows at the same time. 
Similarly, The Walking Dead's Corey Hawkins, who plays Heath, barely appeared in the first half of season seven; one would assume that relates to his new lead role in the 24 reboot. He technically hasn't been killed off yet, but it's still a looming possibility. 
It's important to note, however, that the Entertainment Weekly report says that Martin-Green will "continue to serve as a series regular" on The Walking Dead alongside her Discover role, and other actors on the show have juggled multiple series, like actress Alanna Masterson, who also appeared on the fourth season of ABC's Mistresses. 
Where does this leave viewers? In the dark, obviously, as AMC would want to throw viewers off the scent if Sasha is poised to be killed off in the second half of season seven. Interestingly, there's no way to telegraph her death from the comics because, like Daryl Dixon, she's a character created specifically for the show. So any theories about her fate are speculative, at best. 
However, with The Walking Dead entering a storyline from the comics known as "All Out War," you're probably going to expect some casualties. For that, Sasha's at the top of the list of characters most expected to die after the midseason hiatus. Either way, we'll find out together come February.