Who is Gypsy? 'The Flash' season 3 casts new DC character and Justice League member.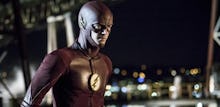 Season three of The Flash is currently on its winter hiatus, but when Barry Allen and the rest of the team return in January, they will soon be joined by a new hero. The Wrap is reporting that DC character Gypsy, a sometimes-member of the Justice League and Birds of Prey, will be joining The Flash when the series returns.
The Flash has cast Jessica Camacho — best known for starring in Fox's Sleepy Hollow — in a role that was originally teased by Cisco Ramon's actor, Carlos Valdes, during the CW's Fan Feast. "There's going to be a new visitor to our world, named Gypsy," Valdes said during the digital series. 
"DC Comics fans will be familiar with Gypsy. She is going to be coming into our world, and Vibe will definitely get to learn some new skills as part of getting to know her. So I'm excited to see how that plays out," Valdes added.
(Editor's note: Possible spoilers ahead for season three of The Flash).
Who is Gypsy?
Gypsy, whose real name is Cindy Reynolds, first appeared in Justice League of America Annual #2 (1984), the same issue in which Cisco/Vibe made his comic debut. Gypsy's primary metahuman power is the ability to cast illusions, allowing her to remain essentially invisible to others. 
At times, Gypsy has had a limited ability to see into the future, a power which she may maintain in The Flash if she is supposed to be teaching Cisco in some way. (Fans will note that Vibe has limited precognition in the series as well.) Gypsy is also skilled in hand-to-hand combat, so she can easily hold her own against a variety of enemies. 
Camacho was recently spotted on set as the character, and from the looks of things, she is going to have an updated look. Originally dressed in the comics as you would expect a classic "gypsy" to look, the set photo below shows Camacho in an all-leather suit.
What does this mean for The Flash?
While Valdes' comments during Fan Feast suggest that Gypsy may primarily play a role in Cisco's evolution as a hero, expect her to suit up for a fight with the rest of Team Flash. Camacho was spotted a few weeks ago in set photos alongside Grant Gustin's Flash and Valdes' Cisco (in a full-on Vibe outfit!) in what appears to be a confrontation of sorts. 
Gypsy will be joining The Flash at a point where the threat level is still high. Despite seemingly seeing Savitar banished in the fall finale, it would be foolish for us to think we have seen the last of the villainous speedster. After all, when Barry inadvertently traveled to the future, he witnessed Iris' murder at the hands of Savitar. 
It will be interesting to see how large a role Gypsy has in the latter half of season three, and whether her unique abilities are used in any way to alter the future Barry witnessed. We will find out soon enough. 
Season three of The Flash returns January 24 at 8 p.m. Eastern on The CW.
Mic has ongoing coverage of the The Flash. Please follow our main The Flash hub here.