iHeartRadio Jingle Ball 2016: When and where to watch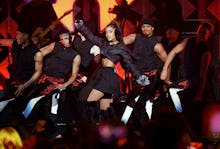 Good music and the holiday spirit collide once again for iHeartRadio's Jingle Ball 2016 tour, which airs nationwide on the CW on Dec. 15. 
The iHeartRadio Jingle Ball tour makes stops across the country in the month of December, however, if you can't make it to a live show, the CW will be airing the pre-recorded event Thursday night. The CW's special will feature performances from Z100's iHeartRadio Jingle Ball, which took place at New York City's Madison Square Garden on Dec. 9. 
Fans can expect an all-star lineup this year including Justin Bieber, Ariana Grande, the Chainsmokers, Fifth Harmony, Ellie Goulding and Diplo.
Where to Watch
The iHeartRadio Jingle Ball 2016 concert will air on the CW Network on Dec. 15 at 8 p.m. Eastern. Besides the big names above, the 90-minute special will also feature even more artists in the holiday spirit such as Charlie Puth, Lukas Graham, Daya and Niall Horan.
In some cities there may still be time to grab tickets for remaining shows on the iHeartRadio Jingle Ball tour. The tour will hit Atlanta on Friday, Dec. 16; Tampa, Florida, on Saturday, Dec. 17; and Miami on Sunday, Dec. 18.
Find out more about the iHeartRadio Jingle Ball 2016 here.