Ivanka Trump's boots are getting some pretty pointed reviews on Amazon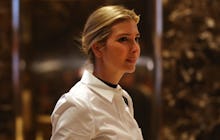 Over the past few months, Ivanka Trump's clothing line has faced some hard times. There was that time when she was accused of ripping off a high heel design from another designer. Then there was that time when her scarves, which were made in China, started catching on fire. And most recently, in the weeks leading up to the election, women started a hashtag campaign, #GrabYourWallet, which encouraged people to stop buying any clothing or accessories made by the Trump family — period. 
And now, with her father set for the White House, people are taking the opportunity to leave some pretty pointed reviews of Ivanka Trump's footwear line on Amazon. 
Here is a selection of what people have to say about one particular pair of high-heeled boots, which come in brown, grey and black, from Ivanka Trump's clothing line: 
"These boots are perfectly designed to trample on fellow Americans' civil rights day or night," one Amazon user wrote, with a one star review. "Your legs will be enclosed in a tight, made-somewhere-that-is-not-America material that will squeeze all the blood from your brain, resulting in blind admiration of demagoguery." 
"Love the way they make that gestapo marching sound," another wrote. "And that 'made in China' quality can't be beat." 
Another one: "These are really, really restrictive and tight — no wiggle room for any kind of freedom of thought." 
Another one: "These boots were made for walking your a** right back to the 19th century." 
So yeah, you could say that these reviews are pointed toward Trump, her father, his administration, his presidency and, well, maybe our future. 
As one user wrote: "These boots were perfect for wiping my feet on the Constitution and trampling the civil liberties and basic human rights of my fellow Americans." 
Yahoo Style was able to track down one of the many people who left reviews of this nature, and they said that doing this at Ivanka's expense is fair because to them, she's no better than her father. 
"She has normalized her father's predatory sexual behavior," Amy Finkel told Yahoo Style. "She's no friend to women who do not fit into the all-too-obvious role she thinks they deserve. She pretends to be a champion of women, but then she undermines them. She's a hypocrite."
Mic has reached out to Ivanka Trump's people for comment.