'Hidden Figures' review: Taraji P. Henson and company make vital history entertaining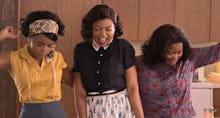 When it was first announced in February, Hidden Figures seemed like an impossibility. During the second wave of #OscarsSoWhite, when Hollywood was routinely ignoring performers of color both in casting and awards, here came the news that not only would Taraji P. Henson, Octavia Spencer and Janelle Monáe lead a film together, but they'd play math geniuses.
Quite frankly, at the time of the announcement — and as we saw more and more footage in trailers — the quality of the film seemed increasingly like an afterthought. Sure, the tone seemed a bit off, but the important thing was that this true-life story, about black women who helped get the first American men into space, was being told at all. It would surely be a box-office smash and a feel-good film; it didn't need to reinvent the wheel.
Yet while it may fall short of such reinvention, Hidden Figures is no lightweight movie. The choice to give the film an Oscar-qualifying run ahead of its wide release next year was a wise one: This movie is a home run, a veritable fist-pump of a film that celebrates the tremendous success of these women while never forgetting exactly how difficult their journey to the stars was.
The three titular figures — "hidden" because of their lesser-known place in history, despite their significant contributions — are Katherine Johnson (Henson), a mathematician who worked on the first manned missions to space; Dorothy Vaughan (Spencer), the first black supervisor in the history of NASA's Langley Research Center; and Mary Jackson (Monáe), NASA's first black woman engineer. 
Considering how much of the movie's story pivots on getting John Glenn (Glen Powell) into space, a mission primarily Katherine worked on, Hidden Figures could easily have lost track of its secondary and tertiary protagonists. But unlike history, the film never forgets Dorothy or Mary, threading their stories throughout the film.
The actual plot of Hidden Figures is quite predictable: We all know John Glenn gets into space at the end. But credit is due to writers Allison Schroeder and Theodore Melfi (who also served as director): At no point does Hidden Figures feel like it's lazily recounting history we know. Instead, it illuminates the previously under-reported parts of a familiar story.
Henson, Spencer and Monáe are all terrific — the latter coming off an incredible debut year as a film actress, having also co-starred in Moonlight — and the supporting ensemble is strong across the board. (Hidden Figures makes for a great best ensemble SAG nominee.) Their performances, with Schroeder and Melfi's smart script in tow, keep these figures from becoming mere chess pieces in history. Their wants, their needs, their loves and their pains are rendered with specificity and sympathy.
Spencer has been getting the bulk of the early awards attention, and it's easy to see why. She has one scene with Kirsten Dunst (who plays an antagonistic NASA administrator) where Spencer delivers a barn-burner of a retort. It's the kind of line that elicits gasps and laughter — as it did in my screening — and will be what Oscar voters remember. (In fact, the entire movie was such a crowd-pleaser at a screening for awards voters, I'd be shocked if it weren't a best picture nominee come Oscar nomination morning in January).
Still, though Spencer and Monáe get plenty of chances to steal the spotlight, this movie ultimately belongs to Henson. It's a quiet performance, a radical turnaround from Cookie Lyon; she sells Katherine's meekness as a byproduct of living in oppressive systems. When Katherine does push back against society's limitations, it's thrilling. When she's held back, it's devastating. And when she succeeds, it's joyous.
It's nearly impossible to imagine leaving Hidden Figures feeling less than overcome with good feelings. It's a populist crowd-pleaser with a heart and a brain. It never makes history look easy, but still maintains a light touch that makes it one of the funnest films of the year. 
In truth, Hidden Figures would have been required viewing no matter what because of its historical importance. But now, it's a movie you'll be anxious to see again minutes after walking out of the theater.
Hidden Figures hits select theaters on Christmas Day and opens wide across the country Jan. 6, 2017.