Trump Tech Summit: Here's what happened at his meeting with Silicon Valley executives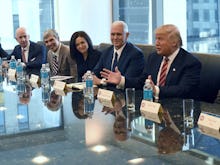 President-elect Donald Trump met with several prominent members of Silicon Valley on Wednesday to discuss topics related to growing and empowering America's tech industry.
Leaders from several major tech firms, including Amazon's Jeff Bezos, Elon Musk of Tesla and Apple's Tim Cook, met with the president-elect to discuss how the government and their companies could work together in the wake of an election that often pitted the Trump and tech against each other.
Trump lavished praise on the attendees
Trump was quick to give accolades to the Silicon Valley leaders he met. "There's nobody like the people in this room," he said. "Anything we can do to help this go along, we're going to do that for you."
"This is truly an amazing group of people," Trump said. "I'm here to help you folks do well."
Trump also suggested ways that tech industries could help the United States, such as possibly creating data programs to help detect wasteful spending in government, according to the New York Times. 
Tech industry concerns
Several topics during the presidential campaign between Donald Trump and Hillary Clinton were concerning to Silicon Valley tech companies. Issues such as trade with China, immigration policy in the U.S., net neutrality and privacy concerns have all rattled businesses with huge tech ties over the last year.
In February, Trump called for a boycott on Apple products when the company refused to unlock a device used during the San Bernardino shooting in 2015. Apple refused to do so, citing the precedent that creating such software could create for future investigations.
Some in the industry have wondered whether Trump would hold any grudges against these tech companies, especially given that they donated heavily — almost exclusively, in fact — to Hillary Clinton's campaign. 
Concerns calmed, for now
Trump seemed hopeful that his administration could cooperate with Silicon Valley, according to the Wall Street Journal. The meeting focused on areas where the two sides could agree, rather than where their differences would be an issue. 
The coziness went both ways. Apple CEO Tim Cook said he looked forward to speaking with the president-elect and his administration "about the things that we can do to help you achieve some things you want." And Facebook COO Sheryl Sandberg said she was "excited to talk about jobs" during the meeting with Trump.
Trump's kids were present
One noticeable element of the meeting was the presence of Trump's children. His sons Eric and Donald Jr., as well as daughter Ivanka Trump were all in attendance during the meeting between their father and Silicon Valley's biggest names.
Critics have raised concerns over conflicts of interest between Trump's children and himself when he assumes the presidency on Jan. 20. He had previously scheduled a press conference last week to address these concerns but abruptly postponed it until next month.