No, Republican electors aren't planning to upend Donald Trump's victory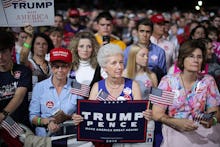 Despite the best efforts of a massively popular Change.org petition calling on the Electoral College to "make Hillary Clinton president," the voting body that officially chooses the country's next leader seems unlikely to change the outcome of the election by switching pledged votes away from President-elect Donald Trump, according to the Associated Press.
The AP interviewed more than 330 of the 538 members of the Electoral College and found that "Republican electors appear to be in no mood for an insurrection in the presidential campaign's last voting ritual," which will take place Monday.
Changing the outcome of the presidential election would require both Republican and Democratic-appointed electors to vote for a consensus candidate rather than the candidate chosen by their parties. And, while electors can legally vote against the election results in some states, the AP found that Republican electors, and some Democratic ones too, are unlikely to do that.
"I took an oath once to become a U.S. citizen and on Aug. 14, 1995, that was the first oath that I've taken to support the U.S. Constitution," Hector Maldonado, a Republican elector from Missouri and a Mexican immigrant, told the AP. "A year later I took the oath again, to support the duties of being an officer in the U.S. Army. This was the third oath that I've taken to execute what I promised to do." Maldonado supported Texas Sen. Ted Cruz in the primaries, but now, he said, he will vote for Trump.
And Jim Skaggs, a Kentucky elector, will vote for Trump despite "worries." "I hope he is far better than I think he is," Skaggs said. 
Even so, "I fully intend to vote for Donald Trump," he said. "I think it's a duty."
John Padilla of New Mexico, a Democratic ward chairman, told the AP he would accept Trump's victory. "We lost the election," he said. "That's how elections are and you shake hands with your opponent and you get on with what you have to do and support your candidate."
Bret Chiafalo, co-founder of the Hamilton Electors, a group of electors attempting to garner bipartisan support for a third candidate, called the effort a "Hail Mary" and seemed resigned to a Trump presidency. Trump, he said, presented a "unique danger to our country" adding that the Electoral College was designed to stop people like Trump.
One thing that most of the electors seemed to agree on, however, was they have been flooded with mail since the election. 
"Let me give you the total as of right now: 48,324 emails about my role as an elector," Brian Westrate, a Wisconsin GOP district chairman, told the AP. "I have a Twitter debate with a former porn star from California asking me to change my vote. It's been fascinating."