Bakersfield, California, police shoot unarmed Latino man Francisco Serno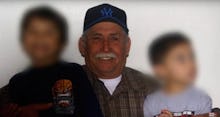 Bakersfield, California, police shot and killed 73-year-old Francisco Serna on Monday, according to KBAK and KBFX. Serna was reportedly living with dementia. 
Officers arrived to his home after getting a call from a man whose wife says Serna confronted her outside her home on Sunday evening. The woman saw a "dark brown or black handled" object, according to reports, and believed it was a gun. In a press conference, authorities say Serna was carrying a dark-colored crucifix and was not armed. All seven officers involved have been placed on administrative leave. 
When police arrived, Serna began to walk toward police with both his hands in his pockets and didn't listen to commands to take them out. Officer Reagan Selman fired seven rounds at Serna, who died at the scene. Selman was promoted from trainee to police officer in February.. 
In a press conference posted on Facebook, incoming Bakersfield Police Chief Lyle Martin said that aside from walking toward officers with his hands in his pockets and ignoring commands to stop, Serna made no other threatening motions.
"Nothing that I've been told up to this point and nothing in the investigation up to this point indicates a lunging or threatening of that nature," he said.
Officers were told Serna had dementia, according to reporters who had heard the dispatch call, though Martin said officers were not aware of his condition. 
In 2015, the Guardian said that in California's Kern County, in which Bakersfield is the largest city, "law enforcement officers have this year killed more people relative to the population than in any other American county." 
Earlier this year, a report from the Ruderman Family Foundation found that almost half of the people killed by police have a disability.
"Police have become the default responders to mental health calls," the authors wrote in the report. 
More than 100 people gathered outside Serna's home Monday morning to hold a vigil.
"We feel our dad was stolen from us in a time at which our family should be celebrating the holidays, birthdays and making happy family memories," Cyndy Imperial, a family spokesperson, said at the vigil, according to KBAK and KBFX. "Our dad was treated like a criminal and we feel he was left to die alone, without his family by his side."