Over 10 million Americans have been threatened with revenge porn or had their nudes leaked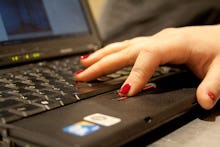 In terms of all the delightful new ways people can be harassed and abused on the internet, revenge porn is not a particularly recent problem. Since the term was coined in the early aughts, advocates have been pressing legislators, social media platforms, search engines and porn sites to craft policies that prevent the dissemination of sensitive or explicit images without subjects' consent, and not without good reason: A whole lot of people have been victims of revenge porn. Now for the first time, a study gives a rough idea of how many people "a whole lot" is. 
As many as one in 25 internet users in the United States — approximately 10.4 million people — have been threatened with or targeted by revenge porn, according to a new study from the Center for Innovative Public Health Research. In a phone survey of over 3,000 people, researchers found roughly 3% of internet users over the age of 15 have had someone threaten to post explicit images of them online without consent, while a slightly smaller percentage have seen their sensitive photos and videos posted without permission. All told, 4% of American internet users have been targeted for revenge porn through blackmail or a harasser actually following through. 
Although men and women under 30 were equally likely to have been victims of nonconsensual pornography, women and people who identified as lesbian, gay or bisexual faced a higher rate of threats from revenge porn perpetrators. At least 10% of women under 30 and 15% of queer respondents have had a former partner or other online abuser threaten to share nude or nearly nude photos of them. As lead researcher Amanda Lenhart told the Washington Post, the survey included questions about threats to account for a common tactic used by domestic abusers.
"Our findings show that particular groups — such as young adults and lesbian, gay, and bisexual Americans — are not only much more likely to be victims of nonconsensual pornography, but are more likely to experience a range of online harassment and abuse," Lenhart said in a statement. "This includes other types of privacy violations, such as having their online or phone activity monitored, or having their passwords stolen or coerced by others."
The findings underscore the longstanding need for tougher revenge porn laws — or for the existence of such laws at all. The study also clearly illustrates that online abuse against women and queer people in particular is prevalent. The release of nonconsensual pornography, or even the threat of exposure, can have devastating consequences for victims, from reduced job prospects to physical endangerment. As the New Yorker reported in December, perpetrators often list victims' full names and addresses along with compromising images, putting their personal safety at risk:
In 2009, a Wyoming woman whose ex-boyfriend had advertised her on Craigslist as someone looking for "a real aggressive man with no concern for women" was raped, at knifepoint, by a man who responded to the ad. In 2013, a Maryland man was found guilty of posting fake ads about his ex-wife, including one that said "Rape Me and My Children." Fifty men showed up at the condominium where the woman lived with her children; some tried to break in. 
Revenge porn can also end lives. Teenagers Julia Rebecca, Amanda Todd and Tyler Clementi are among a number of young people who have committed suicide over the release or threatened release of nonconsensual porn, illustrating the most horrific implications of online harassment. Laws are already changing and being enforced; now there is proof of how badly that needed to happen.