'Breaking Bad' cast: Where are they now? Movies and TV shows starring your favorite actors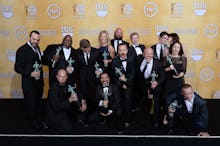 Has it really been over three years since Breaking Bad ended its run on AMC? For five seasons, Breaking Bad was easily one of the best shows on television, winning 16 Emmys during its critically acclaimed run. On top of great writing and directing, Breaking Bad was the show so many people loved because of the series' tremendous cast. 
The cast have all moved on and kept busy with new opportunities since the series finale in 2013. But that's not to say your favorite character from the show won't pop up every now and again. 
Take a recent Saturday Night Live episode, where Bryan Cranston returned to his role as science-teacher-turned-meth-cook, Walter White, Donald Trump's pick to run the Drug Enforcement Agency.
For the most part, though, Breaking Bad's cast has moved on to roles outside of the drug business. Curious what your favorite actors have been doing? Here is where the cast of Breaking Bad is now.
Bryan Cranston (Walter White)
For his role as Walter, Cranston won four Emmy Awards for best lead actor in a drama series. With Cranston's strong resume, he has had no trouble keeping busy since Breaking Bad went off the air. 
Cranston can be seen next starring in the romantic comedy Why Him? alongside James Franco, Zoey Deutch and Megan Mullally. Why Him? will be released on Friday, right before Christmas.
Following Why Him?, Cranston will appear in the highly anticipated Power Rangers film as Zordon. As reported by the Wrap, Zordon was the original Red Ranger before his transformation into a being of pure energy. Zordon becomes the mentor to the new group of Rangers in the film, which will hit theaters on March 24, 2017. You can check out the trailer below:
Aaron Paul (Jesse Pinkman)
Walter's partner in the drug game was Jesse Pinkman, as portrayed by Aaron Paul. Paul received near universal acclaim for his performance, earning three Emmy Awards for outstanding supporting actor in a drama series. 
Paul is currently starring in the Hulu original series The Path, which concluded its first season in March. While not the critical darling that Breaking Bad was, The Path did receive generally positive reviews, and was renewed for a second season set to premiere on Jan. 25, 2017. 
Over on Netflix, Paul voices Todd Chavez on the animated series BoJack Horseman, which recently won best animated series at the Critics' Choice Awards. All three seasons of BoJack Horseman are streaming on Netflix, while a fourth season likely will debut sometime during summer 2017. 
Anna Gunn (Skyler White)
The matriarch of the White family was portrayed by Anna Gunn, and yup, you guessed it, she earned herself some hardware for the role as well. Gunn's portrayal of Skyler White earned the actress two straight Emmy Awards for outstanding supporting actress in a drama series. 
While Gunn currently has no upcoming projects announced, she did appear alongside Tom Hanks in Sully as Dr. Elizabeth Davis. Surprisingly, Sully did not receive a single Golden Globe nomination, seemingly dooming its chances for Oscar gold this year. Still, it is definitely worth a view if you have not yet seen the film. 
Dean Norris (DEA agent Hank Schrader)
In Breaking Bad, Dean Norris portrayed Walter's brother-in-law: DEA agent Hank Schrader (awkward). While Norris did not receive the same critical reception as his co-stars (seriously there are only so many awards to go around), Schrader was an integral character on the show. 
Norris has several projects in the pipeline, so fans of his will have plenty of opportunities to catch him in theaters in 2017. He will star alongside Charlie Day and Ice Cube in Fist Fight, which is set for a Feb. 17, 2017 release. Following Fist Fight, Dean Norris will appear in Colin Trevorrow's The Book of Henry, alongside co-stars Naomi Watts, Lee Pace and Sarah Silverman. The Book of Henry is currently slated to hit theaters on June 16, 2017.
Norris is also set to have a role in the Bruce Willis-starring remake of Death Wish, which is currently without a release date.
Betsy Brandt (Marie Schrader)
Betsy Brandt played Skyler's sister, Hank's wife and kleptomaniac, Marie Schrader for the entirety of Breaking Bad's acclaimed run. While Brandt does not have a prolific film career, she has stayed active in television since Breaking Bad ended. She starred in the short-lived Michael J. Fox Show and is currently a series regular on Life in Pieces, airing its second season on CBS. 
In Life in Pieces, Brandt plays Heather Hughes, the only daughter of John and Joan Short, played by James Brolin and Dianne West, respectively. Life in Pieces airs Thursdays at 9:30 p.m. Eastern on CBS. 
Bob Odenkirk (Saul Goodman)
Not every actor from Breaking Bad is spending their time playing new characters. Bob Odenkirk starred as Walter's lawyer of questionable morality, Saul Goodman, for four season of the hit show. Not long after Breaking Bad ended, it was announced that Odenkirk would star in a spin-off all about Goodman. That spin-off is Better Call Saul. 
Better Call Saul is set several years before the events of Breaking Bad and stars Odenkirk as Jimmy McGill, the lawyer who eventually becomes Saul Goodman. So far, Better Call Saul has aired two highly acclaimed seasons and is coming back for more. 
Outside of Breaking Bad lore, Odenkirk wrote and will star in the film Girlfriend's Day, which will be released on Netflix. According to Netflix, Girlfriend's Day is about "a hapless greeting card writer [who] tries to create the perfect card for a new holiday when he's framed for murder." 
Breaking Bad marathon
If you care less about what the actors have been doing lately and really just want to watch Breaking Bad, you are in luck. AMC recently announced it will be running a Breaking Bad marathon starting the day after Christmas. 
You can watch the Breaking Bad series in its entirety on AMC starting Monday, Dec. 26 and ending Thursday, Dec. 29. Have fun binging!