Last-minute, DIY foodie gifts perfect for the forgotten giftee on your list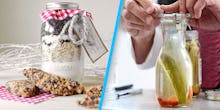 So you want to gift something delicious, but not something that looks like a leftover after school project from that toddler you were babysitting for extra holiday cash. 
Giving a homemade gift is a sweet way to show you care more than a few Amazon clicks, and it doesn't have to look cheap! Bonus: It's possible to put a quality DIY gift together pretty quickly, which should be pleasing news to the procrastinating kind. 
Find some inspiration for edible DIY gifts below. Your giftee will be pleased to rediscover it in their pantry when it's just way too cold to go to the grocery store. 
DIY cherry oat scones 
Skip the chocolate chip cookie mix and put together ingredients for some seasonal dried fruit scones in a lil cute jar. Get the recipe here.
M&M cookies in a jar
Gift one last batch of Christmas cookies, to be baked on a chilly night after all the decorations are put away and the holiday spirit starts to fade ... Get the recipe here.
Homemade peanut butter
Peanut butter enthusiasts will appreciate the extra effort you put into make them their very own homemade peanut butter. Gift with a special jam, naturally. Get the recipe here.
Vegan hot chocolate mix
Give your dairy-free friend a sweet hot chocolate jar and a bag of vegan marshmallows to top it off! Get the recipe here.
Pickle-infused vodka
Help calm that upcoming holiday hangover with a homemade Bloody Mary kit! Gift this DIY infused vodka with a few cans of tomato juice. Get the recipe here. 
Romesco sauce
Give the gift of flavor with this roasted pepper and nut sauce that takes only five minutes to make. Get the recipe here.
Cranberry white chocolate granola
Breakfasts between Christmas and New Years were just taken up a notch with this crunchy homemade granola which makes a healthy and elegant gift. Get the recipe here.
DIY flavored sugar
Gift the baking enthusiast a whole new trove of sweeteners with sugars flavored with fruit, herbs and really whatever you dream up to DIY. Get the recipe here.
DIY vanilla pudding mix
The gift of pudding may not last more than a day, but DIY pudding mix ready to mix up whenever the giftee is craving a sweet treat is a perfect present. Add some edible glitter in the mix for festive flare! Get the recipe here.
Homemade raspberry liqueur
An aspiring mixologist will appreciate this homemade raspberry liqueur that can of course be gifted with more booze or glassware. Get the recipe here. 
Pumpkin spice scrub
Though it's made with all edible ingredients, this scrub isn't intended to be eaten but rather sweeten up a hot shower throughout the cold months. Get the recipe here.
Homemade kimchi kit
Give the opportunity to create homemade kimchi to someone who's never made it before with this Brooklyn-made kit available in various spice levels. Cabbage not included. $45, KimchiRules.com
DIY grow your own mushrooms log
The mushroom obsessive needs this edible fungus growing log, which naturally cultivates shiitake and oyster mushrooms. $30, Food52.com
DIY regional Italian feast
You could head to your local specialty grocery store to put together a gift box, or let Eataly do it for you with their regions of Italy kits, which range from Sicilia to Emiglia-Romagna to Capri and beyond and include everything necessary to whip up an Italian feast to feed a crowd. $75.80, Eataly.com