Poll shows since Trump's election, Republicans have started to changed their tune on Putin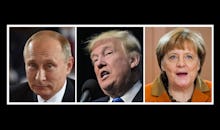 A new poll is showing a major shift for Americans who consider themselves conservative supporters of President-elect Donald Trump: More than a third of the president-elect's supporters now also admire Russian President Vladimir Putin, according to an Economist-YouGov poll.
Thirty-five percent of Trump supporters view Putin as a favorable figure, with just 51% of his supporters viewing the Russian president unfavorable. The poll's findings represent a 56-point shift of Republican voters' view of Putin since 2014, when Republicans held a net unfavorable rating of -66% (this week's poll demonstrates just a -10% net unfavorable rating).
Trump's supporters' views do not reflect how the rest of the nation feel. Just 21% of voters from all voting demographics have a positive view of the president of Russia. Only 8% of Democrats held positive views, with 80% saying they did not view Putin favorably.
Though Trump supporters' views on Putin have shifted in significant ways, their views on Russia itself align more with the American people. Fifty-six percent of Republicans view the former Cold War adversary as unfriendly or an enemy, while 58% of Americans overall also view Russia as unfriendly.
The poll was conducted by YouGov and sponsored by the Economist from Dec. 10 through Dec. 13, and has a margin of error of about 3.3%.