London brewery uses your DNA to make beer based on your personal taste preferences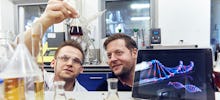 Is there anything worse than ordering a pint of something you've never before tasted, only to discover, upon first sip, that you absolutely loathe it? 
Probably. But the experience is, nevertheless, unpleasant. Which is why one London brewery has developed a customized beer service that caters to customers' personal genetic information.
Meantime Brewery partnered with personal genetics service 23andMe to create Meantime Bespoke, a service designed to "assess hereditary variations in your oral taste receptors (the TAS2R38 gene) to reveal the genetic variants that could explain personal preferences towards specific flavor profiles within beer such as sweetness and bitterness," the brewery website explains.
In other words, the service, the brainchild of Meantime head brewer Ciaran Giblin, may be able to detect your penchant for fruity flavors and determine that you scrunch your nose at bitterness. Using a sample of your saliva, 23andMe will analyze your personal taste receptors and produce a report. More specifically, the DNA service tests for an individual's sensitivity to a chemical called propylthiouracil, which is similar to the bitter compounds found in certain dark beers, coffee and raw broccoli. 
Using this insight, the brewers at Meantime will produce a special beer that you'll, ostensibly, really enjoy. And because you've proven yourself to be picky, the service will first provide a one-on-on consultation so you can offer your input on the flavor profile and creative process for manifesting the perfect-for-you beer. If you like, you can name your hoppy prodigy and even act as a creative director to help design its label.
So ... what's the catch? You better really, really, really like your drinkable masterpiece. Going through the whole process means you'll receive more than 2,000 pints of the drink. Oh — also — the basic package will set you back roughly $30,963.25. 
But can you really put a price on genetically-informed beer?