Muslim teenager Yasmin Seweid was reportedly arrested for faking hate crime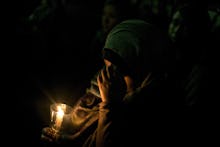 An 18-year-old Muslim teenager reportedly lied about being verbally attacked by a gang of white men who shouted "Donald Trump!" at her, according to WPIX.
Yasmin Seweid was arrested and booked Wednesday at the Hate Crimes Task Force for filing a false police report and obstructing government administration.
Seweid said she was attacked on the 6 train by the 23rd Street station on Dec. 1. She falsely told authorities the men tried to rip off her hijab and told her to "take that rag off your head."
Police sources from the New York Police Department told WPIX that Seweid lied about the attack in an attempt to garner sympathy from her parents after being cornered for allegedly having sex with a man. Sources also say her parents shaved her head as punishment for disobeying them. Seweid left her home on Dec. 7 and was reported missing two days later. On Dec. 10, she was reportedly found safe.
t's tempting to use Seweid's false account to disprove anti-Muslim hate crimes but despite a few false claims there has been an uptick. On Nov. 14, the FBI released its annual report on national hate crimes and it reported a 67% increase in anti-Muslim hate crimes in 2015. According to Georgetown University, there were 53 reported attacks the country in December 2015, in the same month President-elect Donald Trump announced a "complete and total" shutdown of Muslims entering the country. 
Muslim women also carry a lot of the burden from Islamophobia, especially women who wear the hijab. According to the American Civil Liberties Union, one researcher found 69% of women who wear the hijab has reported one or more incidents of discrimination.
"Please don't forget that Muslim women face violence on multiple fronts," Darakshan Raja, co-director at the Washington Peace Center, a social justice grassroots organization, said on Facebook. "Hate violence is just one of them."