Trump was supposed to outline his conflicts of interest. All we got was this lousy tweet.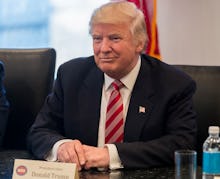 President-elect Donald Trump was supposed to hold a "major news conference" Thursday in New York, in which he was going to answer questions about the massive conflicts of interest he may face between his own business interests and the interests of the United States when he's sworn in as president on Jan. 20.
Instead — after Trump announced earlier this week that the press conference was delayed until January — all concerned citizens got was a tweet in which Trump dismissed the severity of his potential conflicts, giving few details and subjecting himself to zero scrutiny from the press on the subject.
His tweet comes a day after Trump held a roundtable with leaders of the top tech companies in the world, a meeting that his children — Donald Trump Jr., Ivanka Trump and Eric Trump — sat in on.
His children's presence at the meeting raises concerns that he is not taking his conflicts of interest seriously, given that he's tasked them with running his business interests while he serves as president.
By getting access to that meeting and those major business players, as well as reportedly sitting in on Cabinet secretary meetings, that leaves his children with the same conflict of interest issues Trump has. And entanglements of this sort make his hand-off of his business to his children look largely ceremonial, rather than actually addressing conflict of interest issues.
Trump canceled the news conference on his conflicts of interest on Monday. Trump said the news conference would be rescheduled for "in the near future."