A Louisiana judge just tossed an executive order that would have protected LGBTQ people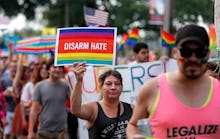 On Wednesday, a Louisiana judge overturned an executive order, issued by the state's Democratic Gov. John Bel Edwards in April, that protected LGBTQ people working in state government from workplace discrimination, the Associated Press reported. 
The State District Judge Todd Hernandez who ruled in the case called the order an "unlawful" attempt to override the state's legislators — but Edwards defended the order, which made discrimination based on sexual orientation or gender identity illegal in state government and any workplace with a state contract, with an exemption for contractors that are religiously affiliated, the AP reported.
Following Hernandez's verdict, Edwards released a statement. "With great respect for the role of the Louisiana Legislature, we continue to believe that discrimination is not a Louisiana value and that we are best served as a state when employment decisions are based solely on an individual's qualifications and job performance," the statement said.
Currently, it is still legal in 32 states to fire someone or deny them services because of their gender or sexual orientation, according to the Human Rights Campaign.
Louisiana's Republican Attorney General Jeff Landry slammed the governor's "extreme agenda" and celebrated the judge's ruling. Edwards reportedly plans to appeal Hernandez's decision.