Kid Cudi 'Passion, Pain & Demon Slayin' is here: Download, streaming options for new album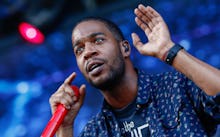 Kid Cudi's follow-up album to 2015's Speedin' Bullet 2 Heaven has finally arrived. The new album, titled Passion, Pain & Demon Slayin', was originally expected to drop on Sep. 30, but according to Cudi, was delayed due to some "minor sample clearances still being finalized." In the interim, Cudi pacified fans by releasing two new tracks that appear on the new album, "Frequency" and "Surfin'."
Download Pain & Demon Slayin' at iTunes or stream via Spotify, Tidal, or Apple music.
Arriving a little more than a year after releasing his solo LP Speedin' Bullet 2 Heaven, the new album spans 19 tracks that Cudi divided into four acts; each act features four to five songs. The album also features stylistically dynamic artists like Willow Smith, André 3000, Travis Scott and Pharrell Williams.
The innovative hip-hop artist has never shied away from experimenting with different sounds and is known to walk a fine line between the hip-hop and rock genres. Having collaborated in the past with discerning artists like Kanye West, appearing on West's The Life of Pablo. Although West and Kid Cudi have had their differences, West has nothing to offer but praise, calling Cudi "The most influential artist of the past ten years." 
Kid Cudi has been vocal about his struggle with addiction, relationships and mental health, and given the emotionally revealing title of the new album, Cudi's past adversities could be a driving force behind his new work. In a recent interview with Billboard, Cudi said:
"I thought about how much of a struggle it has been the past eight years, to be in the news and pretend to be happy when, really, I was living a nightmare. But I can go anywhere, whenever I want. My daughter is in one of the best private schools in the nation. I have everything I ever dreamed of in terms of stability. But I hadn't been living that reality, because depression was fucking me up. So this year I chose to be happy. I just woke up."
When asked by Billboard about what's in store for the rest of his 2016, Cudi said:
"We're trying to dominate the year. I'm really fed up about the questioning of my talent and musical abilities. I'm about to show motherfuckers what time it is. I'm not even at my peak. People think that I've peaked. I haven't even gotten a fucking nut off yet. I've been pre-cumming for the last eight years. I haven't even ejaculated a full spew yet. So motherfuckers better get prepared."
Now that Passion, Pain & Demon Slayin' has officially dropped, fans can decide for themselves whether Kid Cudi has delivered on his claims.