Uber throws human driver under the bus after self-driving snafu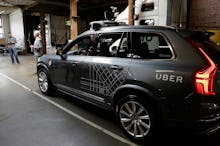 It's been a terrible, horrible, no-good, very bad day for Uber. On Wednesday, the ride-sharing giant announced a fleet of self-driving vehicles would hit the roads in San Francisco — and faster than you could say "the machines are taking our jobs," one of the cars ran a red light. And now, California regulators are cracking down.
A video posted on YouTube shot from the dashboard of a taxi shows one of Uber's self-driving cars running a red light as a human pedestrian enters the crosswalk, the San Francisco Examiner reported.
How'd Uber's red-light problem happen?
Uber isn't pointing fingers at a misbehaving machine — it's blaming the human inside it. Robots 1, people 0.
Uber's self-driving cars aren't fully humanless yet. An Uber employee will still sit in the front seat, hitting a button to activate the car's autonomous mode, allowing them to turn it off at any time by turning the wheel or pushing one of the pedals.
"This incident was due to human error," an Uber spokesperson told TechCrunch. "This is why we believe so much in making the roads safer by building self-driving Ubers. This vehicle was not part of the pilot and was not carrying customers. The driver involved has been suspended while we continue to investigate."
Uber hasn't commented on what exactly happened in San Francisco, aside from putting the blame on the driver in the vehicle.
And that human isn't the only one in hot water. The humans at Uber are also in trouble with the state: California regulators have ordered the company to take its fleet of self-driving cars off the road ASAP. Apparently, the company never got the necessary permits.
In this tale of man versus machine, it looks like man needs to get his shit together.