Where is 'Super Mario Run'? Here's why you can't download the game yet.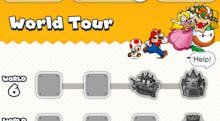 The Super Mario Run release date of Dec. 15 is upon us and the Nintendo game is nowhere to be found. On stage at Apple's fall event, Nintendo's Shigeru Miyamoto promised the game would make its way to iPhone and iPad devices mid-December. The company later confirmed the exact date, but the app continues to be unavailable. 
Where is Super Mario Run?
Applications on Apple's App Store tend to release first in New Zealand and slowly make their way across time zones. But Super Mario Run has yet to launch there. At the time of this writing, it is now Dec. 16 in the country even though that region was promised a Dec. 15 release as well.
Update: Super Mario Run is out! For select users, that is. While some are reporting that they're able to download the game now, others are still without the game. If you're still seeing "Notify" and not "Get" on the Super Mario Run, refresh the App Store app page or quit the app and open it again to toggle the download button.
Why can't I download Super Mario Run yet?
Super Mario Run is set to come out at some point on Thursday, but as of this moment, it's still not available. You can sign up for an alert as soon as the game goes live in the App Store by hitting the "Notify" button. We've reached out to Nintendo for more information and we'll let you know as soon as we hear back.
More Super Mario Run News And Reviews
If you want to know more about Super Mario Run, walk calmly towards Mic's latest coverage, like our review of the demo, an explanation for why the game isn't free, early predictions about whether Nintendo's iPhone-first approach is helping or hurting its chances of success and a list of Android games to play while you wait.
Dec. 15, 2016, 12:52 p.m.: This story has been updated