Here are the 9 best iPhone apps of 2016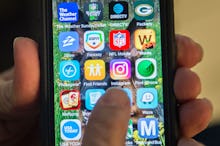 It seems like every other day a new app arrives on the market. From games to social networks to productivity-boosters, developers are constantly pushing out new programs that refine and innovate our lives. Some, however, stand out from the rest.
Here are the nine best apps we used 2016:
This innovative mobile tour guide is one of the coolest ideas we've heard all year. Detour offers immersive audio tours across some of the world's most famous cities. Even cooler: Detour uses GPS to pinpoint your location for the narrator, who will adjust their commentary based off your current location. The likes of Ken Burns, Errol Morris and Philippe Petit layered over cinematic scores will guide you through your walk as you discover iconic destinations. 
The personalized emoji sticker app has been around for a couple years, but it took off in 2016 once Snapchat acquired it for more than $100 million. The app allows users to create customized cartoon avatars to express a plethora of moods and actions where regular emojis might fall short. Sync them with Snapchat or iMessage and let your friends know how you really feel.
Twitter is a powerful tool to track real-time events, but the nature of its pace makes it difficult to keep track of all of your followers. Enter Nuzzel, a social news sharing app that connects with your Twitter account to identify top news stories shared by your friends and favorite influencers. You can also search through specific topics to discover what's going on in those communities. 
Journaling is an extremely rewarding, but at times difficult, habit to sustain. Try Day One Journal, a super sleek app that makes journaling fun and easy to keep up with. There's a wealth of features available that you can't find in a traditional paper diary: upload photos, geolocate posts and track them on a map, add timeline filters like the weather or music and — best of all — get customized reminders to encourage you to write. 
No gaming app has ever captivated the world quite like Pokémon Go. It shattered App Store records and created societal phenomenons within weeks of its arrival in the summer. It's for these reasons that Pokémon Go makes our list, even if the initial hype surrounding it died down almost completely. In case you missed it, Pokémon Go uses augmented reality through your iPhone's camera to capture the fictional creatures that dominated much of our childhoods. It's a fantastic idea that's a little flawed in execution, but its impact on future games could be immense. 
MSQRD, or masquerade, essentially takes the best parts of Snapchat's face filters and expands on them (it's no surprise Facebook bought the company back in March). There are dozens of options ranging from celebrities to animals and mythical figures. The masks will animate depending on the user's expression — it's a fun way to play around with the family or kill some time.
Google Trips is the perfect tool for vacations. The app scans your email for travel reservations and breaks down your itinerary with a list of things to do, food and drinks to try and much more. In addition to showcasing nearby attractions, Google Trips also bundles your reservations to keep track of flight, hotel, rental car and restaurant bookings, and you can access all of it offline. 
"Turn memories into art," is Primsa's tagline. The app utilizes artificial intelligence to transform photos and videos into works of art in the style of Van Gogh, Picasso, Levitan and so on. The results are astounding and a reminder of the power of A.I.
Snapchat is not new, but it made a number of moves in 2016 that made it feel new. The Memories feature was introduced, which further shifted away from the app's ephemeral origins. More and more publications signed up for the platform's Discover section, transforming Snapchat into a legitimate source of news. Then Snapchat rebranded as Snap Inc. and pulled off one of the smartest marketing campaigns in recent memory with Spectacles, a pair of glasses that allow users to take POV snaps. Most recently, Snapchat Groups and a partnership with music discovery service Shazam were introduced. The app continues to change so much that we have no shame in including it on our 2016 list, especially when it's one of the best around.