Kid Cudi 'Passion, Pain & Demon Slayin' Track List: Top 5 songs from the new album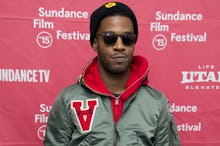 2015's 90-minute, double-disc Speedin' Bullet 2 Heaven was a stark, abysmal reflection of Cudi's inner turmoil and struck listeners of the experimental grunge rock album as lyrically disheartening and stylistically contrived. However, the album's bleak subtext has, at the very least, designated Cudi as the type of artist who has continued to present himself honestly, regardless of critical rhetoric. Cudi's latest effort, Passion, Pain & Demon Slayin' is a full-scale testament to what he's managed to overcome. 
Since seeking treatment for depression, Cudi has admirably spoken out about his mental health and personal conflicts, and Passion, Pain & Demon Slayin' chronicles his creative and psychological metamorphosis. His perseverance makes for a lasting impact. Check out the top five tracks from the new album.
"Frequency"
"Frequency," which Cudi released early to quell the cries of impatient fans, gives way to a newfound sense of creative clarity and perspective. The album's introductory track sets the tone for the entire album, luring listeners into the dark, cerebral corners of Cudi's psyche. Its lyrics function like a low-key mantra:
"Yeah, yeah, widen your view
Trance-inducing hums buttress the self-assured lyrics, gently guiding listeners through the sonically and lyrically labyrinthine hymn. Long an expert at crafting truly transportive listening experiences, Cudi has achieved that and more with "Frequency."
"Releaser"
Vocally, Cudi is at his most adventurous in "Releaser," singing with a kind of raw, hushed agony to his voice. The harrowing production, built out of a choir of low moans and a classic drum break, guides a crusading Cudi "on the verge of breaking down" back toward the light. "It's blinding, your glory/ Your glory is blinding," Cudi sings with palpable awe in his voice. The deft use of vocalizations resonate well after the song is over.
"Fight at First Sight/Advanced"
Placed wisely halfway through the lengthy album, the track's production is an undeniable standout from the otherwise dreary beatscape. With an assist from Pharrell Williams, "Fight at First Sight/Advanced" it's a refreshing, funk-driven hit that manages to incorporate classic R&B elements into a flurry of dizzying rap verses. Despite the brighter tempo, the album's darkness still shows through: "I'm feelin' OK, without the devil on my case today," Cudi sings during the song's outro. In delivering the lines he seems to know he'll be back.
"Distant Fantasies"
While much of the album seems to force Cudi's competing indie, hip-hop and gothic influences into uneasy wholes, "Distant Fantasies" is far more cohesive and delivers some of the album's most straight-ahead thrills. The track's eerie production and airtight verses are punctuated by a hushed, accusatory hook in which Cudi calls out an ex.
Lyin', lyin' entirely to everyone
The steady, rhythmic beat, built out of a sharp recurring tone reminiscent of the in The Twilight Zone theremin work, gives Cudi plenty of space to intimidate and rage. All in all, "Distant Fantasies" is the sound nightmares are made of in the best possible way.
"The Guide"
And trying so hard, we forget that we were animals?" he asks to open his jaw-dropping verse. With a solid beat and a chemistry like Andre and Cudi's, there seems to be no limit to how deep the two can dig into life's most proactive questions.
"Surfin"
Cudi closes out the album on a confident high, featuring Williams for their second collaboration on the album. The production relies on crisp percussion and brass instruments to create an electrifying and intoxicating funk, with the album version adding a new instrumental break to break up the beat's monotony.
What the album and this particular track communicates so effectively, is that Kid Cudi is indeed a remarkably self-aware artist who's constantly one step ahead of his critics and listeners. Once you think you know what to expect to Cudder, he will find a way to outsmart or surprise you. You'll never catch him "ridin' no waves," as he sings on the song, he's too busy making his own.