Best Indie Video Games 2016: 'Firewatch,' 'The Witness,' 'Inside' and other labors of love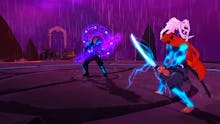 No shade to the big-budget $60 games like Destiny and Overwatch, but some of the best video games you can play in any given year are smaller labors of love from tiny development teams. 
Hyper Light Drifter. The Witness. Firewatch. Games like these aren't necessarily beholden to focus groups and marketing teams, making each one feel a little more personal than a massive undertaking like Final Fantasy 15. 
2016 has been a particularly great year for indie games. Here are some of the best around.
Best indie video games of 2016: Top 10
Furi (PS4, PC, Xbox One)
Furi harkens back to gaming days of old with a brutal difficulty level that will keep you coming back to the game's series of complex boss fights. 
No, really, that's all it is: a string of fights against eccentric boss characters with little bits of story in between each one. There are no random enemies to fight or puzzles to solve.
It's got serious style, with thumping electronic music from artists like Danger and a unique visual style. Furi is hardcore but immensely rewarding.
Thumper (PS4, PC)
Speaking of harsh, thumping electronic music, Thumper is a game entirely about that. It's a simple rhythm game where you play as a sort of musical scarab, racing down tracks and timing your button presses to the music like Guitar Hero or Rock Band.
The key difference here is that instead of My Chemical Romance or Skynyrd, the soundtrack is a downright violent collection of electronic beats that barely even resembles music in some cases. There's nothing out there that looks or sounds quite as cool as Thumper.
Stardew Valley (PS4, PC, Xbox One)
If you just want to relax and pour hundreds of hours into a virtual farm (and maybe even strike up some romance), Stardew Valley is the indie game for you. 
It's got a bit of everything: farming, fishing, mining and country-lifestyle simulation. It's extremely low-key, not demanding much out of the player in terms of skill. 
Darkest Dungeon (PS4, Vita, PC)
If you're interested in assembling a well-balanced team to take on enemies, but you find Pokémon a little too cute, try out Darkest Dungeon. It's all about taking a party of misfits into a randomly generated dungeon and staving off the forces of darkness — as well as maintaining your party members' own sanity.
With a creepy art style and addictive mechanics, Darkest Dungeon might be the dungeon crawl for you.
Inside (PS4, PC, Xbox One)
The creepy side-scrolling adventure game Limbo was released to wide fanfare in 2010, but we had no idea it would take six years for developer Playdead to follow it up. Thankfully, Inside was well worth the wait.
If the thought of walking through a dystopian world and solving puzzles sounds intriguing at all to you, just get it. I don't want to give away any specific details here.
Superhot (PC, Xbox One)
Sombra from Overwatch is a pretty cool video game hacker, but she can't compete with the cyberspace first-person shooting of Superhot.
The premise is simple: Superhot is a first-person shooter where time only moves when you move. That means you can stand still, judge the trajectory of your enemies' bullets and move out of the way accordingly. There's so much more to it, but rest assured that the simple mechanic is as cool as it sounds.
Oxenfree (PS4, PC, Xbox One)
On the less-violent side of things, Oxenfree is a game all about hanging out and talking with your teenage friends. Well, not your real-life teenage friends, but the ones in the game.
The setup is this: A group of teens explore a mysterious island and you have to guide them through some spooky environments while having believably written conversations with them. There's no action to speak of, just adventure.
Salt and Sanctuary (PS4, PC)
I hate to sound dismissive of the developer's hard work, but the best way to describe Salt and Sanctuary is "side-scrolling Dark Souls." I mean that entirely as a compliment.
It's got the same difficulty and feeling of satisfaction for overcoming obstacles, but with a different perspective and combo-based action.
Hyper Light Drifter (PS4, PC, Xbox One)
Along similar lines is Hyper Light Drifter, a top-down action game with some of the most beautiful pixel art you'll ever see. Seriously, there are about eight cool desktop wallpapers in the first 20 minutes of the game.
You're dropped into a mysterious world to explore, full of enemies to hack and slash. It's fairly hardcore in terms of difficulty, but it looks and sounds so incredible that it almost doesn't matter.
The Witness (PS4, PC, Xbox One)
The Witness doesn't have any combat. Nothing in the world is out to get you. There's nobody to talk to and nothing to do except solve an enormous series of increasingly complex line-based puzzles.
The simplicity of the Witness is what makes it work. You just walk around this gorgeous island, solving puzzle after puzzle in the hope of finding more puzzles to solve. Maybe, eventually, you'll find some meaning to it all. But the journey is more important than the destination.
Firewatch (PS4, PC, Xbox One)
In Firewatch, you play as Henry, a middle-aged man who escapes from his old life to take a job as a national park watchtower guard. His only human contact is Delilah, a fellow watchtower guard whom Henry speaks to only through a walkie-talkie.
Firewatch is a game about walking through the peaceful wilderness and talking to Delilah, but it's also about choice. You don't choose how the story plays out, but you use dialogue choices to shape what kind of man Henry is. It's absolutely wonderful. Get this game if you want to feel an emotional attachment to someone you never even see.
The best of 2016 in tech
Hungry for more end-of-year lists? Check out our favorite underrated video games, the best apps of the year and the biggest technological breakthroughs of 2016.