8 of the best 2016 songs with nods to Black Lives Matter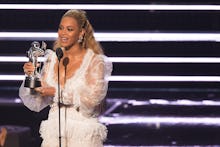 To quote the late Prince from his "Baltimore" music video, "The system is broken. It's going to take the young people to fix it this time. We need new ideas, new life." Hence the need for the Black Lives Matter movement, which is still going strong after three years. Here are eight of the best 2016 songs that make nods to the movement:
1. "Freedom" by Beyoncé featuring Kendrick Lamar
"Freedom! Freedom! I can't move / Freedom, cut me loose!" belts Beyoncé. There's also mention of rioting and being bulletproof, with Kendrick Lamar rapping about the nation's "hypocrisy." The result of this collaboration is one powerful anthem. 
2. "How Many" by Miguel
This beautiful, heartwrenching song is explicitly about the black lives lost to police brutality. "How many heartbeats turned into flatlines?" is perhaps the most poignant line in the song.
3. "Hands Up" by Daye Jack featuring Killer Mike
"Hands Up" comes so close to sounding as broken and hopeless as Daye Jack says he is when he opens the song. But the song has enough upbeat flair to it to hint at the hope that remains for black lives in America.
4. "Sad News" by Swizz Beatz featuring Scarface
"Sad News" is as sad as it promises to be with lyrics about a little boy gunned down in Houston, Texas. The child, nor his is family are named, though the lyrics state, "I hope his family is okay," over and over—almost pleadingly. 
5. "No Justice No Peace" by Z-Ro featuring Mike Dean
The hook goes, "No justice, no peace / It's us against the police / Every time I turn around they shoot another / brother down in these cold, cold streets." Later on, there's the gut-punching line, "They kill us for sport, just like they hunting."
6. "Formation" by Beyoncé
On the surface, this song is an anthem for black women to embrace themselves, but the video makes several nods to police brutality. While BLM co-founder Alicia Garza didn't completely embrace the video in her Rolling Stone analysis published in February, she still gave it her approval.
7. "Sandra's Smile" by Blood Orange
"Sandra's Smile" is a tribute to Sandra Bland, whose death was ultimately ruled a suicide but aroused many suspicions about police brutality. The lyrics are simple and the all the more powerful for it.
8. "Freedom Freestyle" by Joe Budden
"Freedom Freestyle" includes samples from Diamond Reynolds, Jesse Williams and Beyoncé. That combination alone should tell you something. As a reminder, Reynolds was the girlfriend of Philando Castle, another victim of police brutality.