A year later, Flint's water is still undrinkable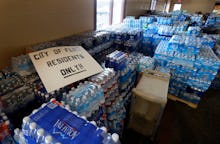 Unfiltered water in Flint, Michigan, remains undrinkable a year after Mayor Karen Weaver declared a state of emergency, according to NPR.
Lead levels in the water seem to have improved from 2015 to 2016, according to samples examined by researchers, but Virgina Tech University professor Marc Edwards, who led the study and originally conducted the tests to discover the lead in the water, said it is "very likely folks will never be told the water is safe as long as those lead pipes are there."
According to NPR, the state has distributed $200 million of bottled water in the city, and officials are trying to convince residents to use water filters. But many in Flint don't trust the filters and don't believe their tap water will ever be safe to drink again.
"We're in year three, actually, of not being able to drink water, and that still makes no sense to me," Weaver told NPR this week. "And it shouldn't make sense to anybody else."
How the Flint water crisis began
In 2014, the struggling city switched its water source from the Detroit Water and Sewerage Department to the Flint River to save money. But the Michigan Department of Environmental Quality failed to properly treat the water with an anti-corrosive agent, as federal law requires, and lead from aging pipes contaminated the city's water supply. Though there is no safe level for lead in water, an EPA representative told Mic earlier this year that lead concentrations of more than 5,000 parts per billion are considered "toxic waste." In Flint, some concentrations as high as 13,200 parts per billion were discovered.
Lead poisoning can lead to numerous health problems, including long-term brain damage. The risk is particularly high for children and the elderly. 
The contaminated water may also have been linked to an outbreak of Legionnaires' Disease that led to several deaths in the city. Flint, as well as surrounding Genesee County, also faced an outbreak of shigellosis in October. Shigellosis, a highly contagious, dysentery-like bacterial disease that can cause fever and bloody diarrhea, can spread easily without the clean water required for proper hygiene. 
Residents of the majority-black city of 100,000 — many of whom have reported spikes in blood pressure, blistered skin and hair loss — spoke to Mic about outside perceptions of the city. "Pretty much everybody lives at what they consider a poverty level," Onquette Woodyard said to Mic in January. "But we still have pride, and we deserve what everyone else deserves, no matter what they think about us."
"The water is horrible here," Quazawndria McGhee said. "They killin' us off."
Filmmaker Michael Moore, who was born in Flint, about 70 miles north of Detroit, likened the crisis to a "genocide" and called for Republican Michigan Gov. Rick Snyder, who was criticized for the state's handling of the crisis, to be arrested.
Several public officials were charged with crimes in connection with the crisis. 
In September, organizers in the city announced the water crisis was far from over. 
Bottled water mandate an "unnecessary burden" 
In November, a federal judge issued an injunction requiring Michigan to deliver bottled water to Flint homes without a working filter. 
Lawyers representing the Snyder administration, which had been accused of ignoring and covering up the crisis, wrote that the "required injunction far exceeds what is necessary to ensure Flint residents have access to safe drinking water." Requiring that bottled water be delivered to victims of the crisis would require a "Herculean effort" on the part of the state, the Snyder administration said.
On Tuesday, the state continued its fight against the November injunction, saying it would be too costly. The state government estimated logistics alone would cost $10.5 million per month, Michigan Radio reported. 
But Henry Henderson, director of the Midwest Program at the National Resources Defense Council, called on the state to follow the judge's order.
"They seem to be putting their efforts and resources into repeatedly attacking an order by the court as opposed to complying with the order from the court that is in effect to this day," Henderson told Michigan Radio.
Meanwhile, bottled water donations are drying up.
U.S. Senate approves Flint funding.
The U.S. Senate last week approved $170 million in funding measures to address the Flint water crisis, Michigan Radio reported.
Part of a $10 billion water projects bill, which also includes $558 million in California drought relief, the Flint aid includes money to help replace aging service lines, expand health care services and improve water infrastructure to address lead and other contamination issues, according to Michigan Radio.
"It's past time for Congress to put partisan politics aside and help the people of Flint, who are still without access to clean, safe drinking water from their taps," Sen. Gary Peters (D-Mich.) said of the bill.