White Missouri students turn backs, flash "Trump" sign at all-black basketball team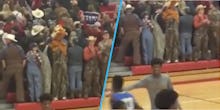 A Missouri school district issued an apology for "insensitive" behavior that students from the district showed toward a rival school during a basketball game. 
In video captured on Facebook, white students from Warrensburg High School turned their backs and flashed a Trump sign at the basketball team from Kansas City's Center High School. Coach LeDale Wooten told the Kansas City Star that all the players on the team are either black or biracial. 
"The Warrensburg R-VI School District does not condone these actions and apologizes to anyone who was offended by the actions of these students," the school district wrote on Facebook. "We will do everything we can to keep incidents like this from happening again." 
As of Thursday morning, the video had over 7,000 shares on Facebook.
Antonia Nunn, who filmed the video, is a graduate of Center High School. She said she's never seen an incident like that on the court, and that Center High students would never engage in an activity like this. 
"Nothing but respect was given to other schools when they came and played on our court," she said to Mic in a statement. "When I saw the sign of Trump I was very appalled. I feel like the student that had the sign knew exactly what type of message he was sending towards the team and the crowd." 
Nunn added that she called them "rude" for turning their backs, but felt they were racist for flashing the Trump sign. 
High schools in the United States have been a focal point of tension over the election of Donald Trump. In November, a black Florida student yelled at a substitute teacher who made a racially charged statement to her classroom. Even before the election, students in one Oregon school district blamed Trump's rise for a week of racist incidents that led to a student-driven protest and walk out. 
According to Center School District public relations director Kelly Wachel, the basketball players on the team were not aware of the stunt during the game. 
Watch this video of the incident below.