'Pretty Little Liars' has a lot of questions to answer in its last 10 episodes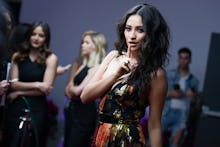 After years of secrets, lies and murders, as well as some truly fantastic fashion, Pretty Little Liars will ride — more like strut in impossibly high heels — off into the sunset. Based on the series of books by Sara Shepard, the series followed Aria, Emily, Hannah, Spencer and Alison for years as they were stalked, harassed and threatened by a mysterious evil who simply went by the letter "A." 
As the Liars' stories were told, the mysteries, and the danger they were in, grew. Fans watched the girls survive being locked in a coffin, held hostage in a remote bunker, being hit by a car, having a car driven into their house and more. With all of the mysteries surrounding their lives, as well as the many romances keeping them busy, there are more than a few questions that need to be answered before the show concludes in April. 
When we last checked in with the Liars, they had survived yet another attack, and with the final 10 episodes just a few months away, it's time to solve some of the mysteries floating around Rosewood. 
1) Who is Sara Harvey? Why did she work for A? Who killed her? 
Few PLL fans even understood why Sara Harvey was on the show, let alone why Emily got involved with her. Sara's backstory was never explained: How did she end up in The Dollhouse? And why did she team up with Charlotte? And what did she do that resulted in Uber A coming after her? 
2) Who was on the original A team? 
When Mona drove Spencer up to Lookout Point in season two's "UnmAsked", she said people had to earn their place on the A Team. Who was working with her? At different times throughout the series, the A Team appeared to include Mona, Toby, Paige, Melissa and Lucas. What happened to them? 
3) Speaking of Mona...
In season five, viewers saw Mona being shut in a car trunk, covered in blood. She was later found at the Dollhouse in the woods. What happened? How was she still alive and healed from her injuries?
4) How did Cece have college roommates if she was living at Radley?
Her roommate told Aria that Cece said Alison hung out with four other "she-devils." How did Cece have a roommate? 
5) Who was the ghost that Mama Marin met in the Halloween special?
Did she have something to do with the twin theory that's been floating around since the first season?
6) Why were there mini-me's of the Liars playing in a park?  
Did Cece hire child actors just to creep the girls out?
7) What happened to Holden, Meredith, Sydney Driscoll, Eddie Lamb and Harold the janitor? 
And Big Rhonda. And the creepy boy at the doll factory. And Aria's little brother, Mike. And Hannah's grandmother! We haven't seen any of them in years. 
8) How did the Liars' moms make it out of the basement? 
In season six, the mothers get drunk on red wine and decide to investigate a strange noise. They promptly find themselves locked in the basement. Then the series jumped five years forward. How long were they stuck down there?
9) What did Alison ask Mona to do?
When Mona was a patient at Radley in the season two episode "UnmAsked," and she thought Cece was Alison, she said, "I did everything you asked me to." What did Alison ask?
10) Why aren't any of the Liars in therapy? 
 Seriously. 
Mic has ongoing Pretty Little Liars coverage. Please follow our main Pretty Little Liars hub.