Exclusive: Why I'm officially running for DNC chair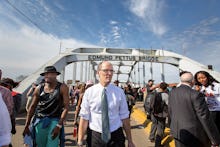 The last month has been tough for Democrats.
But for too many Americans, things have been tough for a lot longer than that.
Right now, there's an 11-year-old girl in Nevada who lives every day in fear that her parents will be deported. There's a fast-food worker in Michigan who gets paid so little that she and her three kids are sleeping in their car. There's a factory worker in Pennsylvania wondering if his job will be there tomorrow and whether his children's future will include the middle class.
President Barack Obama inherited a mess eight years ago, and under his leadership we've made tremendous progress putting people back to work. Yet all across the country, there are millions of people still waiting for the basic promise of opportunity to be fulfilled.
These Americans deserve a Democratic Party that will fight for them. That's why I've decided to run for chair of the Democratic National Committee.
Now more than ever, I believe we need a full-time chair who can inspire people, grow our party and speak to its broad tent. And we need a chair with the leadership and management experience to protect the progress we've made and keep us moving forward.
We also need a leader who will strengthen our party from the ground up, engaging and empowering Democrats at every level in all 57 states and territories to fight for liberty, equality, justice and opportunity.
Those are the values my mentor Ted Kennedy once called the "guiding star" of the Democratic Party. They're the values that drew my parents here from the Dominican Republic. And they're the same values that I've fought to protect and promote for more than three decades.
After putting myself through college with Pell Grants and working on the back of a garbage truck, I passed up offers to join white-shoe law firms, instead choosing a career as a civil rights attorney for the U.S. Justice Department prosecuting racially motivated hate crimes and protecting workers from exploitation.
Years later, I led the department's civil rights division as we pushed for progress across the country. We went toe to toe with Republican leaders in states like Texas who want to turn back the clock on voting rights; we stood up to rogue sheriffs like Joe Arpaio who want to immigrant-bait and immigrant-bash; we cracked down on police misconduct and held police departments accountable to their responsibility to uphold the Constitution while protecting communities; we worked aggressively to enforce laws protecting women's access to reproductive health services; and we fought for marriage equality in every state.
And for the past three years, I've had the great privilege of serving in the president's cabinet as labor secretary, overseeing a complex agency with more than 17,000 dedicated employees who fight each and every day to protect and expand opportunities for working people. We lifted wages for 2 million home health workers, protected construction and mine workers from harmful silica and coal dust, announced expanded overtime protections for millions of working people and stood up to Wall Street to protect the retirement savings of hardworking Americans.
Like so many of you, I also worked tirelessly to stop Donald Trump from becoming president, and my world was turned upside down on Election Day.
We fell short. But I learned as a civil rights lawyer that when you fall down, you have to get back up even stronger. That's exactly what we need to do as Democrats, because there are too many people counting on us to do anything less.
We can't just play defense for the next four years. We also need to offer an alternative, optimistic vision that starts with rebuilding the pillars of the middle class: a job that provides dignity and pays a decent wage; an education that opens doors of opportunity; a path to a secure retirement; and access to affordable health care and housing for every family.
As a former local elected official, I also know that good leaders are great listeners. And my role leading CASA Maryland, an immigrant rights organization, taught me the importance of tapping into the wealth of grassroots energy and knowledge. That's why I've been talking with a number of party and local leaders over the last few weeks, and I've learned a lot from them about how we can build a party that works for everyone.
Those conversations have told me just how important it is that we empower state parties with the tools and resources to succeed. From school boards to the Senate, we need to invest in building the best field organizing, the best data infrastructure, and the best roster of candidates. We need to share our message of inclusion and opportunity with voters in every zip code across the country. And we need to do all of this working side by side with other leaders and organizations in the progressive movement.
But like many of you, I still have more questions than answers. So I'm going to spend the next month continuing to speak with state chairs, party members and voters about their ideas for the road ahead.
The next four years are going to be a battle. But whenever I get cynical, I think about all of the people I've met who are depending on us. If we organize for opportunity, if we ensure that zip code never determines destiny, if we have a DNC chair who listens in order to lead, I know we will do right by them. And together, we will build the party every Democrat — and every American — deserves.
Tom Perez is the United States secretary of labor. He is running for chairmanship of the Democratic National Committee.