Sexual assaults in taxis and Ubers could be tracked in a new database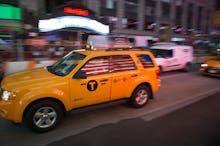 Ride-hailing services have a sexual assault problem. 
From taxis and livery cars to Uber and Lyft, passengers and drivers alike have reported facing harassment, unwanted sexual advances, kidnapping and assault. 
And yet, cab companies and Silicon Valley's titans of disruption have made questionable attempts to address the issue, which seems to have gotten so bad that other developers have created alternative apps for people who hope to avoid rape when they need a ride. And now, it's leading the largest city in the United States to intervene. 
On Thursday, New York City council members Dan Garodnick and Laurie Cumbo introduced legislation that would establish a database for tracking sexual assaults reported in any service licensed by the New York City Taxi and Limousine Commission — which includes not only the city's copious green and yellow cabs, but also services like Uber and Lyft. If the measure succeeds, the database could be established as early as next spring, and would gather information on rape and sexual assault from TLC, 311 and the New York Police Department. 
Just as reports of abuse in New York cabs have started to increase, the city has the potential to create arguably the most comprehensive record of sexual assault in ride-hailing services, which are responsible for close to 140,000 licensed vehicles in the city. There are currently no regular reports on offenses in licensed vehicles, which TLC and law enforcement will be required to collect under the proposed measure. Council members argue that might finally be what it takes to reduce the number of abuses being documented in the database at all. 
"A ride in a New York City taxi should not be an invitation for sexual assault," Garodnick said in a statement. "Yet we have seen these horrific attacks rising in our city. You can't tell women to 'buddy system' their way out of rape. We need to use every tool available to combat sexual violence, and this legislation will equip us to make smart, data-driven policy decisions to protect New Yorkers." 
The database proposal comes in response to a BuzzFeed investigation that uncovered troubling discrepancies in Uber's records of rape and sexual assault reports, which the company has disputed. According to screenshots leaked by an Uber employee, the ride-sharing giant's claims that it received five reports of rape and "fewer than" 170 claims of sexual assault over a nearly three-year period might have been a bit low. In one image, a search for the phrase "sexual assault" returned 6,160 individual Uber customer support tickets; a search for rape turned up 5,827. 
"By making this information publicly available, it allows policymakers to take steps to clamp down on rape and sexual assault in cars," Garodnick said. "But it'll also serve as a benchmark for all the stakeholders in the TLC space to see where they stand when it comes to preventing or being host to sexual harassment and assaults,"